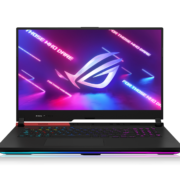 Asus ROG Strix G17
Pros
AMD Ryzen 6000H CPUs

Excellent battery life

60Hz panel blazingly quick response time

Wi-Fi 6E and 2.5G LAN port

Powerful NVIDIA GeForce RTX 3060

The base is strong and flexible hinges

Up to 144 Hz refresh rate on base SKUs
Cons
Unavailability of webcam

No windows hello support

Speakers' quality below average
If you are looking for the most powerful gaming laptop and thinking about buying the Asus ROG Strix G17 2022, your decision would be wrong to grab this amazing laptop. Asus ROG Strix G17 is a full-size 17 inches RTX series GPU prepared by Nvidia. Its display with a 240 Hz refresh rate gives you flagship performance.
Shopping for a gaming laptop can be overwhelming because there is a huge variety of laptops on the market. People who are already from the gaming industry may know very well what kind of specifications makes the gaming laptop more powerful and the right choice to buy.
For instance, CPU, RAM, Resolution, and Refresh rate are the prominent specs that help you to choose the best gaming laptop. Even people new to the gaming industry derive through various blogs, websites, and reviews to decide which laptop with the most updated specs would be the best option to consider.
Budget, design, and user behavior are factors other than specifications that also influence buying behavior, so this article is specially prepared to discuss the Asus brand gaming laptop ROG Strix G17 2022. You can check an article to read more about Best Asus Gaming Laptops 2022: A Gamer's Dream Machine.
Nevertheless, ASUS seems to be really on gaming laptops for the last couple of months after experiencing tough competition from mobile games. Other companies have not gone far away to bring something new to their older gaming laptops. That's why Asus came forward and launched a ROG Strix G17 (2022). Before finalizing ROG Strix G17 as the best gaming laptop, let's explore it further in a detailed manner.
Review of 2022 ASUS ROG Strix G17 Specifications
| | |
| --- | --- |
| Brand | ASUS |
| Series | ROG Strix G17 |
| Screen Size | 17.3 Inches |
| Hard Disk Size | 2 TB |
| CPU Model | Ryzen 7 4800H |
| Ram Memory Installed Size | 64 GB |
| Operating System | Windows 10 Home |
| Card Description | Dedicated |
| Graphics Coprocessor | NVIDIA GeForce RTX 3060 |
For the last two weeks, I have been using 2022 ASUS ROG Strix G17 17.3. In this article, I will share an honest review of the laptop. Although this laptop price is high when we compare its powerful gaming environment supported specs, we found it the best device to buy even at the price of $1,899.99 because it comes with 64 GB RAM, 2 TB storage capacity, and graphics coprocessor NVIDIA GeForce RTX 3060.
The listed specs not only enhance the run-time gaming experience but also help users to perform tasks other than games like browsing, multitasking, and run designing software. AMD Ryzen 7 4800H with 6 cores, 16 threads, and a base clock of 2.9 GHz enticing are the persuading features to compel the gamers to select Strix G17 as the best gaming laptop. It's 17.3″. FHD, 3ms response rate, and RTX 3060 graphics are the most charming features of playing games at a high refresh rate.
Design and construction
First of all, ROG Scar 17 is a full-size 17-inch laptop released with little outside change. Users have an option to choose if they will go for the RTX 3050 GPU. It is thinner and lighter, with a 2.5-kilogram weight. Interestingly if you choose another GPU with RTX 3060, its weight would be 2.80 kilograms. If you are passionate and looking for more information about gaming laptops, please visit the link The Ultimate Gaming Power House MSI Gaming Laptops: Gaming Beasts. The design includes a pixelated print with huge strength, rigidity, and minimal flexibility.
The entire body, like other gaming laptops, is heat conducting away and upward from the fingers. Users can open the lid single-handedly. Unfortunately, there is no camera above the display, and interestingly there is a backlit keyboard that has a per-key (RBG) option. The laptop has a Number-pad, thankfully, which makes the application of shortcuts easy in working or gaming situations.
There are two USB ports, type-A 3.2, and you can enjoy a charging port, a 2.5G LAN port, and DMI 2.0b connector. You can also read the article Best Laptops for Gamers and Students in 2022. The screen ratio is 16:9 with a Full HD 360 Hz IPS panel, and the resolution is 1920 х 1080, allowing you to enjoy the best gaming experience in the long run. By installing the Health-Guard profile, you can minimize the harmful effect of blue light emissions.
Price and Availability of Asus ROG Strix G17
Asus ROG Strix G17 is one of the best laptops available in the market, specially designed to enhance the gaming experience. If you are willing to buy one for yourself, then here is the right place to order. Check out the price and availability of Asus ROG Strix G17 by clicking the link below.
Final verdicts
Asus ROG Strix G17 is the best gaming laptop with upgraded RTX 3060 or higher. It will give higher performance due to numerous specifications, elegant design, and powerful aesthetic. Thankfully, most ASUS brands' personal computers and laptops are durable, performance-oriented, and perfect to meet gamers' requirements. People who are webcam conscious or may be looking for a more lightweight machine may decide to buy other products matching their expectations. However, users looking for purely gaming laptops with a 60Hz panel and blazingly quick response time to enhance their gaming experience must buy this outstanding laptop.
Conclusions
The article has provided an extensive review to cover the 360 overview, specifications, design, and pros and cons. The final decision is on your choice because every gamer, like an expert and entry-level, both have different laptop specification requirements.
In addition, budget and brand association are other factors that influence the buyer's decision to choose the laptop to buy. Infect, Asus ROG Strix 2022 is a powerful gaming environment supported by specs. We found it the best device to buy even at a price of $1,899.99 because it comes with 64 GB RAM, 2 TB storage capacity, and graphics coprocessor NVIDIA GeForce RTX 3060.
FAQ's
What is the most compelling factor of Asus ROG Strix G17 making it the best gaming laptop?
Well, there are various factors fascinating the buyer to consider Asus ROG Strix G17 as a gaming laptop. For instance, 60Hz panel, blazingly quick response time, Powerful NVIDIA GeForce RTX 3060, and up to 64 GB ram make within the price of $1,899.99 an amazing laptop from a top-notch laptop-making company.
Is Asus ROG Strix G17 the best laptop for video calls or video conferences?
Asus ROG Strix G17 is an amazing laptop for playing games, performing study tasks, and operating business software. However, it has built-in 720 webcams, which is considered an average webcam and not recommended best for video calling. So the Asus ROG Strix G17 is specially designed for the gaming experience.  
Does the Asus ROG Strix G17  get warm quickly?
Usually, every laptop, when operated for long hours, either for working or gaming purposes, gets warm due to a long time of activity. However, you can keep your laptop cool through an external cooling pad, but the Asus ROG Strix G17 has the built-in quality to normalize the heating effect, and its cooling system is really good and keep the system undusted.