Need for Speed Unbound is a racing game that lets you race against other car owners. It has many different cars and tracks to choose from, so you can find the right one for your driving style. This online racing game also includes a story mode that lets you take on challenges with other players online or locally. You can upgrade your cars and get more skill points to win races in this fun game!
Need For Speed Unbound was released on 29 November 2022 and has been a great hit due to its initial release during the holiday season. Need for speed Unbound has laid the future of the racing game division with amazing graphics with intricate details which will surely deliver you the best racing game vibe.
Need For Speed has been the flag bearer for the racing game division and has always stood out for its players. Need For Speed Unbound is the latest installment which is equipped with anime-themed graphics, which is the new addition to the car racing game enthusiasts. 
Techywired has gone through the details of this new game for your ease and lets you enjoy a proper review of this amazing racing game which is Need For Speed Unbound. So let's buckle up and press the throttle of your favorite car!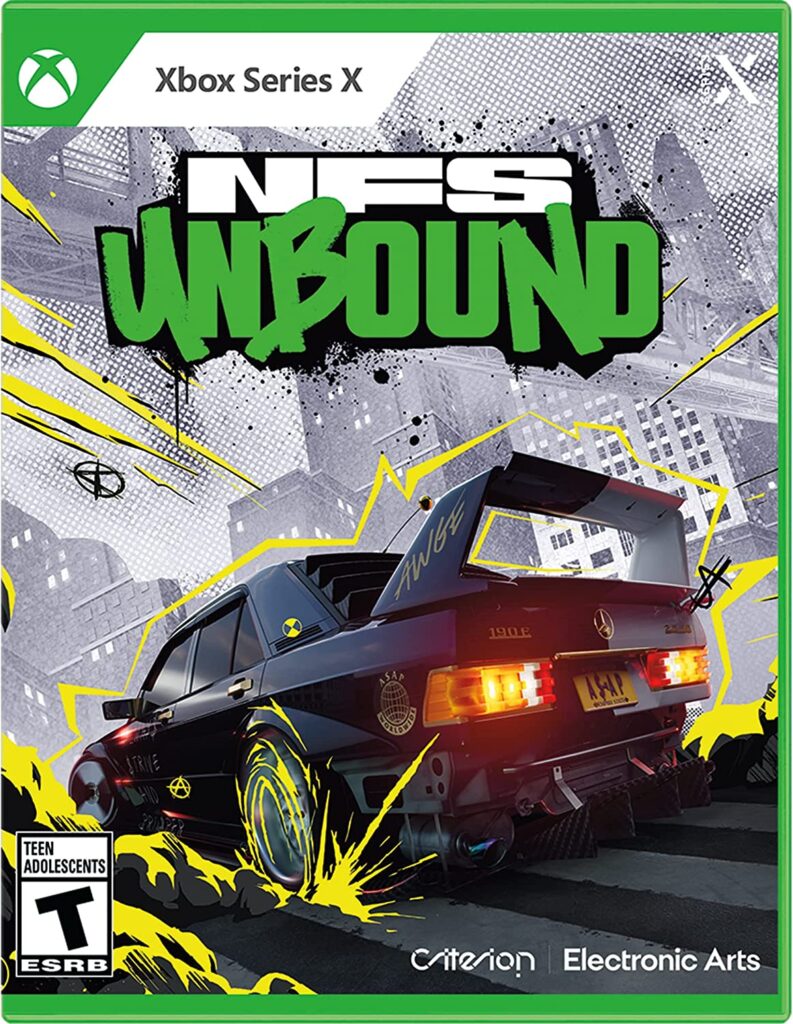 Need For Speed Unbound Price & Availability
Need for speed Unbound is available on Amazon. It has a price tag of $42 for the Xbox Series. While the price is the same for the Playstation 5 version. PC gamers might need to spend a little bit more to enjoy this amazing game from EA, around $69 in total.
| | | | | |
| --- | --- | --- | --- | --- |
| Image | Game | Price | Sold By | Best Deal Available |
| | Need For Speed Unbound | $42 | Amazon | |
Need For Speed Unbound Developers
Need for Speed Unbound was developed by EA and Criterion Game Studio. The game has Graffiti Enhanced Graphics that add more realism to the graphics while keeping them simple and easy to read. This means you can see your car clearly, even at night! Which was an issue highlighted by the gamers in the previous installments.
EA and Criterion Game Development team has fully driven focus on the animation and overall driving experience of the gamers. The animation team has introduced tiny details using neon colors that look intrinsically attractive while driving and making sharp turns.
EA and Criterion took 3 years for the development and styling of the latest 25th installment of the Need For Speed franchise. The Criterion Game Development team introduced the first-ever feature effects and anime characters which will be a new horizon for the Need For Speed Unbound players. Anime-themed styling delivers a new vibe for the Need For Speed franchise.
The cars are designed with precision to give you the most realistic experience possible. You can upgrade your car with an engine, tires, and body kit to make it faster, more powerful, and stylish as well.
Need For Speed Unbound Storyline
The storyline for NFS unbound is just amazing. It revolves around the best cars and their owners. Each character has a unique story that you can relate to, making the game more interesting to play. You will be able to choose from different types of cars, like muscle cars, sports cars, or even luxury sedans, for your journey through the city streets filled with traffic jams.
Need For Speed Unbound storyline revolves around 5 main characters who portray key roles in this amazing game. Here are the names of these characters:
A$AP Rocky
Protagonist-Ian Nelson/Elizabeth Grullon
Rydell
Yaz
Tess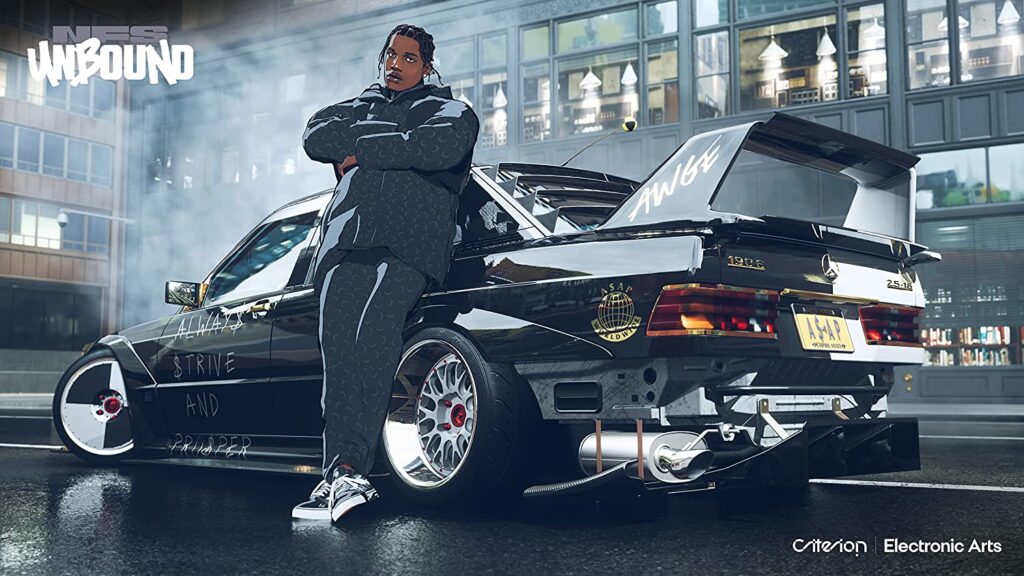 Need For Speed unbound lets you animate your characters with different skins and outfits of your choice. There are unlimited challenges hidden around the whole map of the city within different locations for gamers. Challenges with different cars and tracks.
Achieving a high rank in these challenges lets you grab the best cars which are available in the game for you. These challenges test your driving skills and reflexes to deal with different terrains spread throughout the map.
The graphics are also excellent as they capture all the action in great detail with vivid colors and sharp lines, making them easy on your eyes while playing this game at high speeds!
| | | | | |
| --- | --- | --- | --- | --- |
| Image | Game | Price | Sold By | Best Deal Available |
| | Need For Speed Unbound | $42 | Amazon | |
Need For Speed Unbound Gameplay
EA and Criterion have dedicated 3 long years to the research and development of this 25th installment of the Need For Speed franchise. Need For Speed Unbound promises it will deliver a high-quality adrenaline-rushed street racing game experience for its gamer fans.
With the background of strong character development and challenges, this new game also is more graphically enhanced than the previous versions. Characters' strength and driving skills help them to compete with the best racers and achieve high rewards upon winning the race.
Need For Speed Unbound surely lives up to the title as the driving skills are truly unbound, immersive gameplay, which helps to live the street racing vibe overall. The gameplay for this game is designed to eliminate the overall boring driving experience and deliver the real thrill while making turns, and anime-styled graphics activate the racing spirit.
Need for speed Unbound Cars Collection
The Need for Speed Unbound game has equipment that allows you to create your own unique car and race against other players in a variety of locations. Customizing your car with the latest gadgets, increasing the Nitros capacity, and adding more power is a special highlight feature of Need For Speed Unbound.
The game features over 40 cars, including Ford Mustangs, Lamborghinis, and Ferraris, as well as supercars like the McLaren F1 and Bugatti Veyron. You can add custom parts such as wings or spoilers to your vehicle for extra styling points or even choose from different engines if you want something more powerful than stock.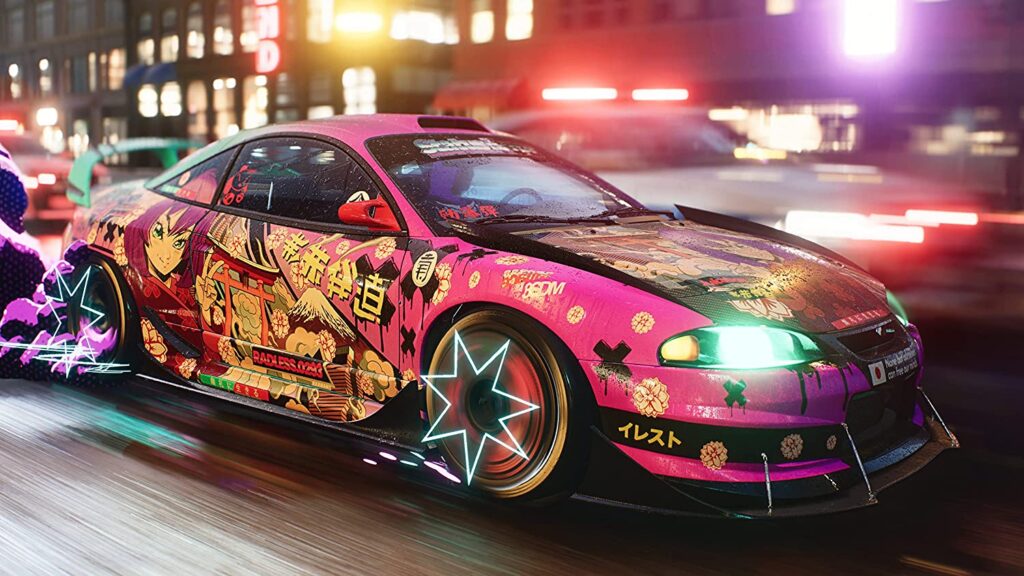 Need For Speed has introduced some rare models as well, which are a great inclusion for racing enthusiasts. Dodge Charger 1990 and Lamborghini Countache are prime examples of how Need For Speed Unbound has maintained a list of cars that unlocks achieving higher ranks in the challenges.
There is also a list of special vehicles available through in-game events, which are only available for a limited time before being sold off at auction; these include the 
BMW M3 GTR
Nissan Skyline GT-R
Lamborghini Countache
Dodge Charger 1990
Need for speed Unbound Features
Need for Speed Unbound is a free-to-play racing game that features a range of cars and different tracks. The game has a variety of modes, including career and multiplayer races, as well as challenges that let you unlock new cars or upgrade your existing ones. You can also play with a friend in split-screen mode.
Animations are the highlights of the amazing features of this new racing installment from EA and Criterion. Anime-themed characters prove an important factor in increasing the overall hype of the new-gen racing game.
The main characters have been designed to look like an average teenager who lives in the suburbs with his parents and three siblings: two boys and one girl who is older than him—and therefore must act like a safeguard and comment on his racing style and alert him regarding the proposed attack from the police.
| | | | | |
| --- | --- | --- | --- | --- |
| Image | Game | Price | Sold By | Best Deal Available |
| | Need For Speed Unbound | $42 | Amazon | |
Need for speed Unbound Pros and Cons
Pros
Graphics are excellent
Anime Theme Characters and Detailing
Unlimited amount of modifications possible with your cars
Amazing Gameplay
Cons
Controls are quite sensitive
Gameplay lacks variety
Early Challenges require multiple trials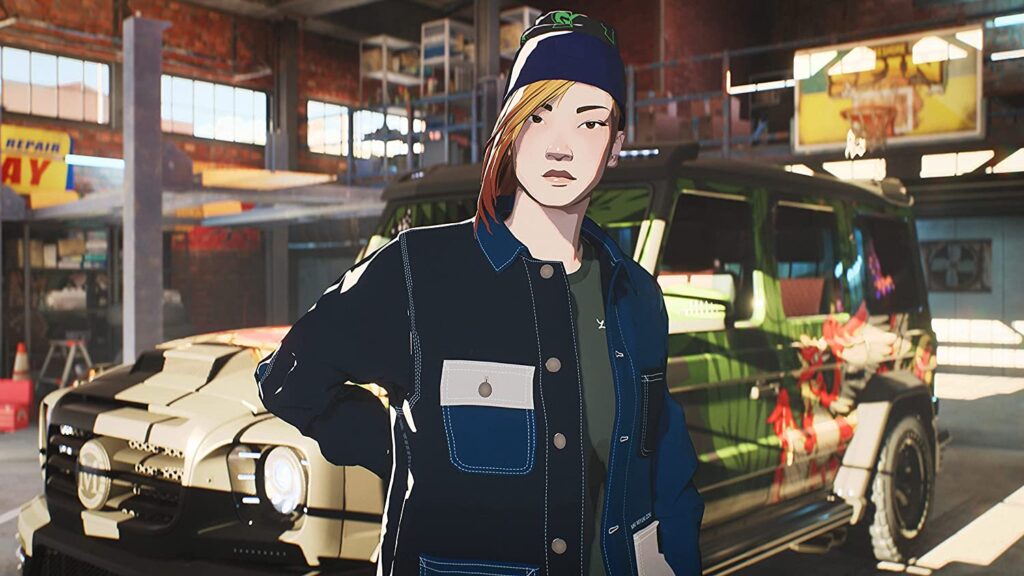 Need For Speed Unbound Final Verdict
If you like racing games, you may find Need For Speed Unbound to be worth buying. It's a good game, but it will surely live up to the hype of this gaming franchise. It's also one of the best racing games on the market today and has an excellent sense of speed while still being fun and accessible to gamers of all ages.
The main problem with this game is that it is in direct competition with Forza Horizon 5 and Mario Kart, which are quite as interesting or challenging as other racers, which makes it difficult for some people who enjoy those types of games but don't want something too complicated either. Overall a great combination of anime details and cars makes Need for speed Unbound a game worth buying in the end. Read More about the best Xbox games as well on Techywired.
In conclusion, Need For Speed Unbound is a decent racing game that can be enjoyed by fans of the genre. If you like to play games like this and have had a long wait for another installment on your favorite console, then it may be worth buying this game as your next purchase. It has all the features that gamers want from their racer but, at the same time, lacks some things like multiplayer or co-op modes, which would have made it even better than what it already has been.
FAQs
Is Need for Speed Unbound going to be on PS4?
Unfortunately No, this game is only compatible with newer gaming platforms like PS5, New Xbox Series, and Gaming PC. In other words, you guys will need to have a new console or an updated gaming PC to enjoy the amazing Need For Speed Unbound.
How much does NFS Unbound Cost?
EA and Criterion game development studios have strategically priced this amazing Need For Speed Unbound within reach of gamers' budgets. NFS Unbound costs around $42 for Xbox Series Console, $43 for PS5, and $70 for the Gaming PC version.
Will NFS Unbound be free on EA Play?
It is available for EA Play members for a limited 10-hour trial period. But there is unlimited access to the EA Play Pro members for the NFS Unbound game.
Is NFS Unbound can be played on PS5?
Yes, NFS unbound can be played fluently on the Playstation 5 console. This 25th installment from the Need For Speed family is all equipped with an extensive storyline, cars, and anime-themed graphics to keep you interested in this racing frenzy!
Is NFS Unbound worth it?
Yes, NFS Unbound being the 25th installment from the Need For Speed Family totally worth your time and money. Moreover, NFS Unbound is the indication that EA and Criterion Developers are taking this franchise in the coming years.