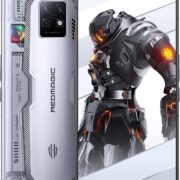 Red Magic 7S Pro
Pros
Excellent gaming performance

Premium build-in quality

Beneficial thermal solutions

Bright display
Cons
Awful camera

Lack of wireless charging

Heavy and pretty big

Lack of expandable storage capacity
Compared to smartphones released less frequently annually, this glut of gaming phones often results in lowered expectations and less excitement. More importantly, these quarterly "upgrades" are frequently insignificant and unnoticeable; they might include one or two new colors, a change in the camera lens, a bigger battery, etc.
If Nubia had made modifications like that to the new Red Magic 7S Pro, I might not have been as eager to evaluate it. Instead, a new Qualcomm Snapdragon 8+ Gen 1 processor and a new ICE 10.0 multi-dimensional cooling system are included in the 7 Pro's successor.
The new model gives mobile gaming a significant boost overall. Therefore, the 7S Pro is considered a good gaming phone. Red Magic 7S Pro is one of the highly anticipated gaming phones out there in the market with amazing features under such a low budget. This is one of the salient features of this amazing machine from a new gaming house.
Red Magic 7S Pro Specifications
| | |
| --- | --- |
| Brand | REDMAGIC |
| Model Name | 7S Pro Silver&Transparent |
| Wireless Carrier | Unlocked for All Carriers |
| Operating System | Android |
| Cellular Technology | 5G |
| Memory Storage Capacity | 512 GB |
| Connectivity Technology | Wireless, Bluetooth, WiFi, USB, NFC |
| Color | 7S Pro Silver&Transparent |
| Screen Size | 6.8 Inches |
| Wireless network technology | GSM, CDMA, LTE |
Price & Availability
Red Magic has been a great source of gaming for professional and amateur gamers out there. This amazing gaming smartphone provides the excellence of high-end gaming on the go anywhere and everywhere. Check out the best price and specs of this gaming phone from Red Magic.
| | |
| --- | --- |
| Model | Red Magic 7S Pro |
| Price | $1,099 |
| Available At | Amazon |
Comparison to other devices
| | | | |
| --- | --- | --- | --- |
|  Models | RED MAGIC 7S Pro | Asus ROG Phone 6 Pro | Asus ROG Phone 6 |
| Price | $1,099.00 | $1,899.00 | $1,098.00 |
| Dimensions | 0.01 x 0 x 0.39 inches | 6.7 x 3 x 0.4 inches | 6.7 x 3 x 0.4 inches |
| Operating system | Android | Android 12.0 | Android 12.0 |
| Weight | 0.52 lbs | 0.75 lbs | 0.75 lbs |
| Screen size | 6.8 inches | 6.78 inches | 6.78 inches |
| Color | 7S Pro Silver&Transparent 18+512 GB | White | White |
Red Magic 7S Pro Features
Red Magic 7S Pro is the best gaming phone, with its top-line specifications and attractive industrial design. The article highlights the most cutting-edge features of Red Magic 7S Pro. Let's read about them.
Red Magic 7S Pro Price
7S Pro by Red Magic may be a pricey gaming phone, but it is quite effective as it gives you a cool gaming experience. If you do not have extra money to spend on an expensive mobile, Red Magic 7S Pro is the best option.
This is available at amazon, and the general price is $1,099.00.
Red Magic 7S Pro Design
Nubia has made the best device for solid gaming performance by focusing on gaming features. This phone is huge as it has a 6.8-inch display surrounded by flattened edges. Its shape is rectangular from the edges, giving it an attractive gaming phone look. The design is a blend of aluminum and glass material.
It has two shoulder triggers, a game mode switch, and usable power and volume buttons. Most importantly, it has a headphone jack that makes the performance of this device more efficient. The disadvantage of this device is that it does not provide a MicroSD slot to expand the memory.
Red Magic 7S Pro Display
You get a 6.8-inch display and 20:9 aspect ratio along with its 1080×2400 AMOLED panel that provides you with a higher resolution. When it comes to the refreshing rate, it is stuck to 120Hz. That might not be enough, but you can get an alternative having 144Hz or more instead. But 7s Pro is still respected as it is a fair device in terms of its performance.
It provides full HDR support along with AMOLED technology that makes it the competitive gaming phone you desire to have. Proving the 700 nits max brightness level, it cannot beam bright like the other phones. That is why you may struggle with the brightness of this device in sunlight or outdoor viewing.
Red Magic 7S Pro Processor & RAM
Although Red Magic has made small upgrades in 7s Pro, its processor upgrade is significant to notice. It is supported by the Qualcomm Snapdragon 8 Gen 1, along with Qualcomm's flagship chip that has lifted the reputation of Red Magic to worthwhile performance.
This Red Magic model has 8GB of RAM with 512GB internal storage, which is its high-quality spec. These specifications make it outstanding in competition with other gaming phones. Overall,7S Pro is a solid option for you in terms of hardcore and reliable gaming performance.
Red Magic 7S Pro Touch
The touch-sampling rate of the 7S Pro is 960Hz, considered the maximum touch-sampling rate of a smart gaming phone. 960 Hz touch rate means this device can register up to 960 times per second. This specification makes the display more responsive and ultra-fluid, enhancing the performance of FPS games while playing on the phone. This device is quite efficient for playing games such as Call of Duty and others.
RED MAGIC 7S Pro Camera
The triple camera system's primary sensor is a Samsung GW3. It makes it possible to take good pictures, but in reality, they tend to have a somewhat chilly white balance and are sharpened significantly by the software. The ultra-wide-angle lens is lacking in details and, therefore, ineffective. Although Nubia doesn't offer specific details, the third lens is probably utilized to measure depth information.
It is apparent when viewing the panel's under-display camera (UDC) from the side; otherwise, it is practically invisible. The imaging performance for social networking and messaging is certainly not exceptional, but it is still adequate. Videos can only be captured in Full HD; however, the primary camera can also capture 8K video.
Red Magic 7S Pro Software
7S Pro by Nubia runs the Red Magic software over Android 12. This software is version 5.5 of Nubia's custom skin. There are not many changes in the software, but the additions include wallpaper rotation on the home screen and branding of maximum gaming improvements.
Nubia has dedicated this device to a specific mode of playing games. The overall software improvements have made the gaming enhancements so impressive that every gamer likes to play games on this device. If you want tweaking settings, you will be happy about the level of configuration offered here. The only bad thing about its software is that it sometimes has poorly translated system messages that can annoy you but still is easy to understand.
Red Magic 7S Pro Gaming performance
The gaming performance of 7S Pro acquiring the Snapdragon 8+ generation is super, especially when combined with the high-class 960Hz touch sampling and 120 Hz OLED screen. No doubt, the 7S Pro is a better device for playing games, but the cheaper 7S has a refresh rate of 165 Hz, so the problem of the under-display fingerprint sensor can be avoided. Overall, it is a considerable gaming phone.
Red Magic 7S Pro Battery & Overall life
A true device having a battery capacity of 5000 mAh makes 7S Pro a good machine, but it is comfortable for all-day use without any disturbance. This is quite a decent capacity that every phone does not provide. The battery also offers overall solid results that you can find on any smartphone.
This device can last up to 10 hours if you set the brightness to 200nits by doing various valuable tasks. But the overplay of games can reduce the battery level and consume it quickly, resulting in lasting for fewer hours. However, it is possible to make this device work for a long time with a refresh rate of 60Hz and keeping the brightness to an average level.
Red Magic 7S Pro: Pros & Cons
Pros
Cons
1. Excellent gaming performance
2. Premium build-in quality
3. Beneficial thermal solutions
4. Bright display 
1. Awful camera
2. Lack of wireless charging
3. Heavy and pretty big
4. Lack of expandable storage capacity
Conclusion
The Red Magic 7S Pro has excellent build quality and a premium feel. It is a far more desirable option than its predecessor, thanks to advancements in heat management, performance, and battery life. Sadly, under-display camera technology is still in its infancy. While it makes for a cool party trick, the selfie camera is far from ideal. I was saddened to learn that this model used the same subpar back cameras.
The Red Magic 7S Pro's ultimate goal is to provide you with the best gaming experience possible, and it succeeds admirably. You won't be dissatisfied with the performance if you're willing to put up with some subpar camera. Learn about the Asus ROG Phone 6 as well from Techywired.
FAQs
What country produced the Red Magic Mobile?
Chinese smartphone manufacturer Nubia unveiled the Red Magic 7 Pro gaming smartphone which means this is produced by the Chinese.
Does Nubia operate in China?
Chinese smartphone manufacturer Nubia Technology is based in Shenzhen, Guangdong. It was first founded in 2012 as a fully-owned subsidiary of ZTE. In 2015, it became an independent business, and in 2016, Suning Holdings Group and Suning Commerce Group made a sizable investment.
What is the weight of the Nubia Red Magic 7S Pro?
The device 7S Pro is about 235 grams in weight. It is quite effective to play games.
Does the Nubia Red Magic 7S Pro have water resistance or waterproofing?
No, it is the disadvantage of Nubia Red Magic 7S Pro that it is not waterproof.
What are the dimensions or measurements of the Nubia Red Magic 7S Pro body?
The phone is 166.3 x 77.1 x 10 mm (6.55 x 3.04 x 0.39 in) in size (Height x Width x Thickness)
What are the specifications of the Nubia Red Magic 7S Pro?
The specifications are as follows
Display – 6.8 inches
Resolution – 1080 x 2400 pixels
SoC – Qualcomm SM8450 Snapdragon 8+ Gen 1
RAM – 12GB, 16GB, 18GB
Internal Storage – 256GB, 512GB, 1TB
Operating System – Android 12
Camera – Rear – 64MP + 8MP + 2MP / Front – 8MP
Battery – 5000mAh
Is Nubia Red Magic 7S Pro dust-resistant?
The Nubia Red Magic 7S Pro is not dustproof so you must take care of this device while using it.
Why should I buy The Nubia Red Magic 7S Pro?
It would help if you bought The Nubia Red Magic 7S Pro because its cooling system with a 20,000 RPM fan is efficient. It plays without interruption thanks to the under-display camera. It also provides 65W rapid charging for a 5,000mAh battery.
How do you feel holding the ZTE Nubia Red Magic 7S Pro?
Its rounded and curving edges make it feel comfortable in your hands.
Why shouldn't I buy the ZTE Nubia Red Magic 7S Pro?
You should not buy this device if you like to take selfies. Its selfie camera is still the single most disappointing feature, though. On the worldwide version, Nubia has lowered it to an 8Mp sensor in addition to embedding it beneath the display. Naturally, the outcomes are noticeably inferior to those with a standard front-facing lens.
Is a fingerprint scanner supported by the Nubia Red Magic 7S Pro?
Yes, a fingerprint scanning sensor (under display, optical) is supported by the Nubia Red Magic 7S Pro.