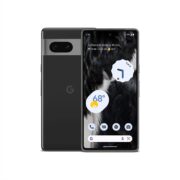 Google Pixel 7
Pros
Unique design and colour choices

Same Tensor G2 chipset as the Google Pixel 7 Pro

Integrated AI improves characteristics
Cons
It seems a little less expensive than the Pro model.

It lacks the Pro's zoom camera.

Screens on comparable phones at this price point are more supple.
The Google Pixel 7 is Google's most recent attempt to compete in the primarily Samsung and Apple-dominated global smartphone industry. Contrary to last year's Pixel 6, which was the first device to use Google's in-house Tensor processing and a new design, the Google Pixel 7 is a modest advance.
After previewing them earlier in the year, Google has officially unveiled its most recent lineup of premium smartphones. Here is all the information you need to know about the Google Pixel 7, including its main features and cost.
The Google Pixel 7 has a 6.3-inch Full HD OLED display with a resolution of 1080 x 2400 (416ppi), while the Pixel 7 Pro has a 6.7-inch QHD+ LTPO OLED display with a resolution of 1440 x 3120. 512ppi, then. In contrast to the 7 Pro, the Google Pixel 7 has a 90Hz display. We have not yet learned whether there are any specific differences, but those specs are the same as those of the phones from last year.
A prototype Pixel 7 Pro that had been bricked revealed that it had a Samsung display from a more recent generation, suggesting that there could be some minor year-over-year improvements. Nevertheless, there isn't any direct evidence of such happening in the launch event documents.
Google Pixel 7 Specs
The Google Tensor G2 CPU and 6.3-inch OLED screen on the Google Pixel 7 have a refresh rate of 90Hz. A 4355mAh battery, a dual camera on the back with a 50MP main sensor, and a 10.8MP front selfie camera round out the specifications.
| | |
| --- | --- |
| Specifications | Google Pixel 7 |
| Build | 100% recycled aluminum frameIP68Corning Gorilla Glass Victus |
| Dimensions & Weight | 155.6 x 73.2 x 8.7mm197g |
| Display | 6.3-inch FHD OLED2400 x 1080p resolution90Hz refresh rate1400 nits peak brightness (25% higher brightness than the Pixel 6)HDR support |
| SoC | Google Tensor G22x ARM Cortex-X1 @2.85Ghz2x ARM Cortex-A78 @2.35GHz4x ARM Cortex-A55 @1.8GHzARM Mali G710 MP07 GPUNext-gen Google custom TPU |
| RAM & Storage | 8GB LPDDR5 RAM128/256GB UFS 3.1 storage |
| Battery & Charging | 4,355mAh battery wired fast charging (up to 50% in about 30 minutes with Google's 30W USB-C brick)Fast wireless charging support (Qi-certified)Up to 72 hours of battery life with Extreme Battery Saver |
| Security | In-display fingerprint scannerFace UnlockTitan M2 chip |
| Rear Camera(s) | Primary: 50MP f/1.85, OIS, Super Res Zoom up to 8xUltra-wide: 12MP f/2.2, 114-degree FoVLDAF Video:4K 60FPS video capture support on all cameras10-bit HDR video capture support |
| Front Camera(s) | 10.8MP f/2.2 upgraded ultra-wide selfie camera, 92.8-degree FoV, fixed focus large sensor for better night-time photos |
| Port(s) | USB Type-C 3.2 Gen 2 |
| Audio | Stereo speakers |
| Connectivity | 5G (mmWave support on select models)4G LTEBluetooth 5.2Wi-Fi 6ENFC |
| Software | Android 13Minimum 5 years of security updates |
| Other Features | Google One VPNSoftware features: Photo UnblurFaster Night SightReal Tone improvementsCinematic BlurAudio message transcription clear calling |
The Pixel 7 series appears to have a similar look to the Pixel 6 aside from these modifications. It has a glass back guaranteed to be glossy, just like the previous generation; a USB-C connector is located on the bottom edge, while the power button and volume rocker are on the right edge. Except for the SIM tray, the phone's left edge is featureless. The smaller model's screen is flat, while the larger model's screen is curved. Both phones include Gorilla Glass Victus glass on each side and are IP68-rated for dust and water protection.
Thankfully, one significant advancement: more markets than last year provide higher storage tiers. The Pixel 7 is available in 128GB or 256GB, while the Google Pixel 7 Pro offers 128GB, 256GB, or 512GB of storage. Although we do not yet know the precise breakdown for each market, we know that the US is one of them. The Pixel 7 is a smaller phone in size (obviously), measuring 115.6 x 73.2 x 8.7mm and weighing 197g. Sized at 162.9 x 76.6 x 8.9mm and weighing 212g, the Google Pixel 7 Pro.
Google Pixel 7 Price & Availability
The brand-new Google Pixel 7 is available for pre-order. The 128GB edition of the gadget has a starting price of $590.
| | | |
| --- | --- | --- |
| Model | Price | Available At |
| Google Pixel 7 | $590 | Amazon |
Google Pixel 7 Early Thoughts
Despite a small improvement over the Pixel 6 from the previous year, the Google Pixel 7 highlights Google's strategy for mobile devices. This indicates that Google intends to compete with Apple and Samsung by lowering its prices, releasing exclusive software features, and emphasizing camera quality.
It's also important that Google was able to maintain the Google Pixel 7's price in the US. Apple no longer provides a less expensive "Mini" version of the iPhone 14, as it did for the previous two years, even though the price of the iPhone 14 isn't technically higher than the iPhone 13's. This indicates that the entry hurdle for Apple's most recent iPhones is slightly higher than in the previous two years.
Once you have gotten an opportunity to test the Pixel 7 and determine how much of an improvement it actually is over the Pixel 6, you will know more.
Google Pixel 7 Features
Here is the detail of these amazing features of Google Pixel 7,
Google Pixel 7 Shape
Much of what Google incorporated into the Pixel 6 is carried over to the Google Pixel 7. At first sight, it appears to be quite similar to the Pixel 6, but for minor differences in the camera visor or bar (or whatever you want to call it). Fortunately, this ensures that the visor-like rear camera will continue to be a design staple. Despite this, the glass's two-tone pattern has regrettably vanished. A slightly different sheen of color above the camera bar in the Pixel 6 and 6 Pro gave a pop of color.
Pixel 7's camera ring is undoubtedly its most appealing feature, but it has a charmingly rounded shape. Google has paid care to develop an organic feel that makes the phone simple to grip, the screen is attractively curved, and the camera band rises gently from the phone's frame.
Google Pixel 7 Screen Size
The Google Pixel 7's 6.3-inch screen is smaller than the Pixel 6's 6.4-inch screen but larger than the Pixel 6A's 6.1-inch screen. It appears to be rather simple to use with one hand. Nothing else has changed in this department; Pixel 7's screen has the same 2,400×1,080-pixel resolution as the Pixel 6 but with slightly more pixels per inch (416 against 411 PPI) due to its smaller size. The OLED display, like its predecessor, can be boosted to 90Hz for better scrolling.
Google Pixel 7 Face Unlock
There is another big distinction on the Google Pixel 7's front. Face unlock is now supported by the selfie camera, which has been upgraded to 10.8 megapixels from 8 megapixels on the Pixel 6. Face unlocks are less secure than the Pixel's under-screen fingerprint sensor or a PIN. As a result, face unlock is positioned as a more convenient way to unlock your phone rather than an authentication mechanism for payments and other sensitive duties.
Google Pixel 7 Design
The snow Google Pixel 7 has a glossy white body, a metallic, matte camera bar, and matching borders. The redesigned design of the camera bar helps it stand out more and highlights the camera lenses. The lenses in the Pixel 6 appear to merge with the camera bar itself.
The phone's rear has also been updated. The Pixel 7 and 7 Pro share many similarities with their older brothers' design language, but they each include a new metal camera bar that is more noticeable than the Pixel 6 models. The Google Pixel 7 will be offered in three colors: black, white, and a delicate yellow known as obsidian, snow, and lemongrass.
Google Pixel 7 Display
During our hands-on time with the Google Pixel 7 Pro, the 6.3-inch display looked fantastic. The user interface met our expectations for its responsiveness and fluidity. The screen has a peak brightness of 1400 nits and can run at 1000 nits, which is incredibly bright and slightly less intense than the Google Pixel 7 Pro.
There is no denying that the screen of the Google Pixel 7 Pro is superior. It may update quickly, achieve a brighter peak, and is crisper. Despite this, the Pixel 7 still has a fantastic design. It uses an OLED display that is crisp, clear, and colorful but does not employ the same LTPO panel for an always-on mode.
The screen is not overly big, and the bezels are virtually invisible. We would still purchase a protector for the glass even though it is Corning Gorilla Glass Victus, which offers good damage prevention.
Google Pixel 7 Camera
Even if you didn't snap the picture using the Google Pixel 7, Google grants the Google Pixel 7 the ability to edit pictures in your Google Photos library. We're eager to apply Google magic to our old portraits to remove blur and sharpen faces, but since this feature is only available for usage on the phone, it won't be a Google Photos tool for everyone.
Google Pixel 7 Software
Pixel 7 is equipped with Android 13 – the latest complete release of Google mobile OS. Except for its regular Pixel Feature drops, which occur many times a year, Google is unlikely to make significant changes to the UI itself. Pixel 7 resembles phones that advertise a "bare bones" Android experience quite a bit.
This phone should have no trouble running Android 13 because of its powerful Tensor G2 chipset, which has been improved for graphics this time. During our hands-on time, it was quick to navigate through interface screens and launch many apps simultaneously. In order to swiftly modify the phone's appearance, we had no issue swapping themes.
Features that rely on Google's Tensor G2 platform offer the actual software excitement. Tensor receives a significant workload transfer from Google Assistant, and the Google Pixel 7 receives some of the same cutting-edge software features as the Google Pixel 7 Pro.
The Google Pixel 7 should be able to almost live-transcribe speech because of the Tensor G2 chip's faster and more accurate speech recognition capabilities. In addition, Google promised to provide speaker identification in speech transcriptions. Both of the new Pixel phones have that feature and other AI capabilities.
Google Pixel 7 Pros & Cons
| | |
| --- | --- |
| Pros | Cons |
| Unique design and color choices | It seems a little less expensive than the Pro model. |
| Same Tensor G2 chipset as the Google Pixel 7 Pro | It lacks the Pro's zoom camera. |
| Integrated AI improves the characteristics | Screens on comparable phones at this price point are more supple. |
Techywired Final verdict
You won't regret buying the Google Pixel 7. The Google Pixel 7 is a great phone. It has a great camera and screen, excellent battery life and design, and a fast processor.
If you're looking for an Android phone that can do it all without sacrificing style or performance, then the Google Pixel 7 should be on your list of options.
While the Google Pixel 7 isn't perfect, you should consider buying it for many reasons. If you're looking for a phone with great performance and a large screen while still being affordable, this is one of the good choices.
FAQs
Q: What are the disadvantages of Google pixel?
Q: What is the difference between the Google Pixel 7 and Google Pixel 7 Pro?
The Google Pixel 7 and Google Pixel 7 Pro are high-end smartphones with great photography-related capabilities. With 0.4 inches more screen real estate and a quicker refresh rate, the 7 Pro is marginally larger. The Google Pixel 7 Pro's camera features an additional 48MP telephoto zoom lens with a 5x optical zoom.
Q: Is Samsung or Google pixel better?
The new Samsung phone, though, triumphs in enough categories to negate the advantages of the Pixel 6's lower price and superior mobile camera. The Galaxy S22 has the best performance of either phone, the best display, and a superior design.
Q:  Why are Pixel phone cameras so good?
There are a lot of factors that make Pixel smartphones good photographers. Ideal sensor sizes, low aperture, and high-quality camera sensors. With AI specifically created for image processing, the Pixel Visual/Neural Core. Finally, Google Camera is one of the company's most notable software creations.
Q: Is Google pixel safe for privacy?
Your fingerprint information is safely stored on your phone and never leaves it. Face unlock on the Google Pixel 7 employs facial recognition software that is handled locally, so no data about your face is ever sent to the cloud or given to third parties.
Q: Is Google Pixel 7 comfortable to hold?
Yes, thanks to its ergonomic design, it is comfortable to grip.
Q: Is Google Pixel 7 waterproof or water-resistant?
On the Google Pixel 7, waterproofing is present. The phone is IP68 water and dust-proof (up to 1.5m for 30 mins).