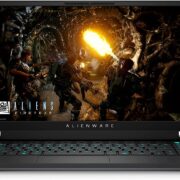 Alienware M15 R6
Pros
Customizable AlienFX RGB

Unique ergonomic design offers improved stability and palm cushioning.

Perfect Size and Lightweight Gaming Laptop
Cons
Low Battery Life

A bit expensive for Amateur Gamer

Annoying Alienware Command Center
The Alienware Brand is famous for providing a heavy-duty gaming performance to its users and bringing effective hardware to the lead. Alienware has always designed the best laptops and delivered improved quality for passionate and professional gamers. The performance of Alienware M15 R6 has always surprised users. It also keeps a balance between its functionality and price. Here enters the greatest hardware you will ever find on a gaming laptop.
Alienware M15 R6 can be considered a miracle machine that holds all the qualities in such a small frame. It comes with the best Processor and CPU that enhances the efficiency of this device. Gaming laptops of Alienware are worth spending money on, and the M15 R6 also comes in the same category. This article from TechyWired provides a solid review of the Alienware M15 R6 and its functionality. To buy the best budget gaming laptop, you can also read about Dell G15. 
Let's look at the little comparison of the M15 R6 with the Alienware m15 R5 Ryzen Edition and Alienware m15 R4 RTX 3080 before diving into its specs and features.
Alienware M15 R6 Specifications
| | |
| --- | --- |
| Screen Size | 15.6 Inches |
| Storage | 1TB |
| Ram | 32GB |
| Operating System | Windows 11 Home |
| CPU | Core-i-7 |
| Graphics Card | RTX 3080 |
Alienware M15 R6 Price & Available At
Although Alienware M15 R6 is available on many sites, I recommend buying it from amazon because it is a reliable source and provides the best products. It is advised not to waste your time on unreliable sources. It is available on Amazon for a price of $2,796.00. Click on the link below to buy Alienware M15 R6 from Techywired.
| | | |
| --- | --- | --- |
| Model | Price | Available At |
| Alienware M15 R6 | $2796 | |
Alienware M15 R6 Features
Alienware M15 R6 Design
Dell laptops have made valuable improvements in their design and visuals over the last few years. It has made upgrades in terms of its power and design, and its design is worth appreciating as it is very appealing.
Alienware M15 R6 is interestingly easier to adjust its intensity and colors. Like its predecessors, it stands on the middle point, but still, it is a valuable device, especially for gamers. It has a big exhaust on its back. The whole body of M15 R6 comprises plastic, magnesium alloy, and aluminum.
The touch screen feels good as it works smoothly, and the plastic keyboard plate functions as a heat-conductive part. Overall, the build quality is great and doesn't disappoint you.
Alienware M15 R6 Keyboard
Regarding the keyboard, I would surely say that it is the best possible gaming laptop for me because it has a luxurious keyboard and delivers its best performance. The results of the keyboard are fast and responsive simultaneously.
You will find Alienware M15 R6 the most satisfying gaming laptop, better than all of its rivals. Although this laptop does not provide per-key lightning, it has four horizontal zones spreading across the keys. You can animate each of the zones, and it can be set to any desired color.
Alienware M15 R6 Display
The Alienware M15 R6 is the same as the Alienware M15 R5, but the present device has a 360 Hz refresh while Alienware M15 R5 only has 165HZ. This little comparison of the display shows that it is a more appealing and effective gaming laptop than the editions have come before. Each of the displays is differently valuable.
The brightness of this beast is better to consider, while its distribution is worse. One thing that is appreciable in this gaming laptop is its outstanding response time. The response time of M15 R6 shows how well the screen can change from one color to another. Overall, the color space coverage is also good.
Alienware M15 R6 Performance
Alienware M15 R6 powered by 11th Gen Intel Core i7-11800H CPU has 32 GB RAM and a solid model of M15 R6. It comprises 1TB M.2 PCIe NVMe SSD storage space. Its dedicated NVIDIA GeForce RTX 3080 GPU and Intel Iris XE Graphics improve its performance.
The unique cooling system keeps this gaming laptop cool under high pressure. In gaming and performance in performance mode, the CPU's temperature rarely goes above 90-degree Celsius, while the GPU temperature rarely crosses 75 degrees. It shows that the cooling pad of Alienware M15 R6 is quite effective.
Alienware M15 R6 Battery Life
The battery is quite large and pretty cool, but it reduces faster if you don't use it at the exact brightness. It drops within four hours if you watch live streaming on YouTube at a middle brightness level.
Adjusting the refresh rate of Alienware M15 R6 to 60Hz by using the NVIDIA Control Panel for setting the graphics into the processor that works as a primary GPU improves the battery life. The battery life can last up to 7 hours with the same stream.
Comparison of Alienware M15 Models
| | | | | | |
| --- | --- | --- | --- | --- | --- |
| Alienware Models | Resolution | Weight | Height | Size | Availability |
| Alienware M15 R6 | 1920×1080 | 2.5 kg | 22.85 mm | 15.6″ | |
| Alienware m15 R5 Ryzen Edition | 1920×1080 | 2.5 kg | 22.85 mm | 15.6″ | |
| Alienware m15 R4 RTX 3070 | 1920×1080 | 2.4 kg | 20 mm | 15.6″ | |
Techywired Final Verdict
Alienware M15 R6 is a more efficient gaming laptop holding the best qualities. As I have discussed earlier, it offers the best gaming performance and CPU quality and is one of the best products of Alienware laptops. The NVIDIA RTX Graphic card is the most proficient among all the recent arrivals of the Alienware M15 series.
It functions effectively, which cannot be taken for granted. The cooling pads add value to their efficiency and improve the performance of CPUs. The version of the Alienware M15 R6 and Ryzen M15 R5 is comparable to each other, but the only difference is the price. That is why you must choose the most wanted edition wisely. Overall, TechyWired has enlisted all the qualities, specifications, and features of Alienware M15 R6. There is no disadvantage to buying this good-quality laptop.