DJI has released the Mavic 3 Classic, a more affordable model of its popular Mavic 3 drone that retains many cutting-edge innovations.
The DJI Mavic 3 Classic is the newest member of DJI's growing line of drones. Less than a year after DJI's flagship Mavic 3, the company released the Mavic 3 Classic as a more budget-friendly alternative. The Mavic 3 Series now includes five distinct models thanks to the newest addition: the Mavic 3 Classic, Mavic 3, and Mavic 3 Cine, as well as the Mavic 3E and 3T, aimed squarely towards commercial customers.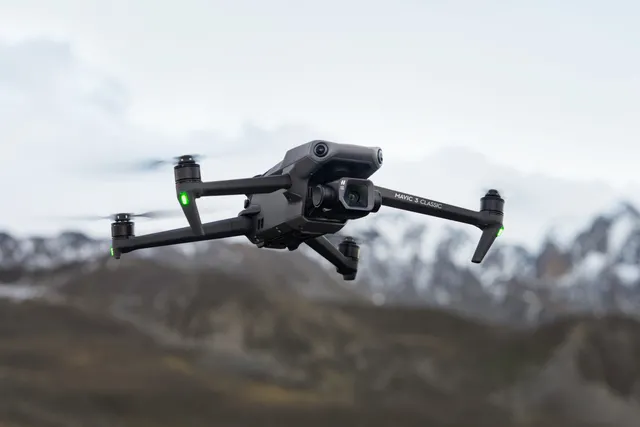 Mavic 3 Classic Price, Specs And Other Features
When purchased with a DJI RC-N1 controller, the Mavic 3 Classic costs $1,599; when purchased with a DJI RC controller, the price rises to $1,749. Mavic 3 original models start at $2,049, for reference. For an extra $1,199, you can get the DJI premium RC Pro controller that works with this model.
The Mavic 3 Classic has a 20-megapixel 4/3 CMOS sensor from Hasselblad. 12-bit RAW images and 10-bit D-Log videos can be processed by the camera. The drone can record video in 5.1K at 50FPS, 4K at 60FPS, and 1080p at 60FPS. The O3+ gearbox and integrated Cruise Control allow precise shooting pace and trajectory control. Existing DJI product owners can purchase the drone separately from a controller and a charging dock. For this reason, those who already own RC-N1, DJI RC, or RC Pro controllers may save even more cash. All three of these controllers work with the O3+ transmission system, which has a range of up to 15 kilometres.
The camera on the Mavic 3 Classic has a 24mm equivalent focal length and an aperture range of f/2.8 to f/11, providing a native dynamic range of 12.8 stops. The drone can take timelapse, hyper-lapse, and panoramic photos and has DJI's automatic Quickshots shooting mode. Suppose you're not yet comfortable taking photos while flying. In that case, the Mavic 3 Classic's cruise control function and ActiveTrack 5.0 feature will let you concentrate more on taking photos and less on controlling the drone.
The Mavic 3 Classic is equipped with several safety measures to help pilots avoid dangerous situations in the sky. The drone's eight cameras input data into the APAS 5.0 obstacle avoidance system, allowing it to autonomously design paths around potential dangers. Its Return To Home feature can find the quickest way back to takeoff after surveying the area within 200 meters. The Mavic 3 Classic is outfitted with an AirSense ADS-B receiver, which can detect nearby aeroplanes and helicopters transmitting ADS-B signals, and DJI's GEO 2.0 geofencing system, which can alert drone pilots to potential flight hazards in the area and provide information about local airspace restrictions.
The new drone has the same cinematic flying patterns as the original Mavic 3 and can follow and frame things with the camera as it flies. Active Track 5.0 can locate and follow a predetermined group of people, animals, or other things. The newest Classic model has the same battery technology as the Mavic 3. The same ADS-B receiver and the capability for APAS 5.0 and 360-degree collision detection are included.
As of right now, you may buy a Mavic 3 Classic, which complies with all applicable rules and regulations. DJI anticipates FAA approval of the Mavic 3 Classic's method of complying with the open Remote ID standards, making the drone acceptable for flight in the United States (which will come into effect on September 16th, 2023). The Mavic 3 Classic may now be flown in Europe's new A1 Open Category without needing a remote piloting license.