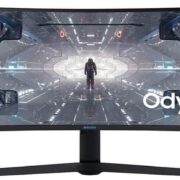 SAMSUNG 49-inch Odyssey G9 Gaming Monitor 
Pros
Overall, good performance

Exceptional color reproduction

Excellent screen space to perform multiple tasks

A huge widescreen panel

Super quality for SDR and HDR modes
Cons
Expensive

Lacks integrated speakers

Input lag may be lower

Viewing angles are narrow
After launching the Samsung CHG90 gaming monitor, the industry has introduced the ultimate super-duper, ultra-wide gaming display to rule them all. The popularity of ultra-wide gaming and professional monitors has reached a high pitch. A spacious 49-inch gaming monitor with a unique 32:9 aspect ratio that will envelop you in its curved display is the Samsung Odyssey G9 (model LC49G95TSSNXZA).
The 49-inch sloping curve will dominate any workstation, combined with the 5120 x 1440 resolution, 240 Hz refresh rate, and 1000R curve screen. It's a big amount of technology, and unquestionably one of the greatest monitors money can buy.
The company's top-of-the-line gaming display, the enormous Odyssey G9 from Samsung, is available in the market. The vivid, vibrant image on this 49-inch curved screen will satisfy most gamers. It costs a hefty $1,307.75, but its size and gaming-specific performance help justify that price for hardcore racers and flight simulator players who prefer one enormous, engulfing widescreen display.
Samsung 49-Inch Odyssey G9 Gaming Monitor Specifications
Brand SAMSUNG
Special Feature Curved
Screen Size 48.7 Inches
Display Resolution Maximum 5120 x 1440 Pixels
Refresh Rate 240 Hz
Samsung 49-Inch Odyssey G9 Gaming Monitor Price & Availability
Gaming has never been the same when compared to the past eras. Gaming monitors have up their level to provide a crisp and elegant stance towards characters and efficient gameplay for gamers. Samsung in this end has perfectly placed its curved gaming monitor in the price bracket of amateur and professional gamers. Do check out the price and availability of this amazing gaming monitor: Samsung 49-Inch Odyssey G9 Gaming Monitor.
Samsung 49-Inch Odyssey G9 Gaming Monitor
Price: $1318
Amazon
Comparison to other devices
Models
Display Resolution
Screen Size
Refresh Rate
Dimensions
Price
Availability
SAMSUNG 49-inch Odyssey G9 Gaming Monitor

5120 x 1440 pixels

48.7 inches

240 hertz

16.39 x 45.18 x 21.15 inches

$1,3

18

Amazon

Fiodio 35″ 180Hz Ultrawide QHD 3440 x 1440P Curved Gaming Monitor

3440 x 1440 pixels

35 inches

180 hertz

9.5 x 35 x 19.2 inches

$460.00

Amazon

Fiodio 24" Gaming Monitor

1920 x 1080 pixels

24 inches

165 hertz

5 x 21 x 16 inches

$179.99

Amazon
Samsung 49-inch Odyssey G9 Gaming Monitor Features
We shall now explain the detailed features of this amazing curved gaming monitor for you guys, In order to get a real taste of this amazing gaming adventure.
Samsung 49-Inch Odyssey G9 Gaming Monitor Design
On the monitor's underside is a power switch and a four-direction control stick around the right third of the screen.
A little bezel on the bottom edge of the SAMSUNG 49-Inch Odyssey G9's screen is present, bordered by a very thin black band flat with the panel and features the Samsung emblem in the middle.
The monitor's white back is an unusual aesthetic choice. It attaches to a base with a broad, V-shaped V-neck and a relatively thin yet strong stand. The display is so large that the stand doesn't allow for tilting but does allow for height adjustment.
Samsung's "Infinity Core" lighting system is located where the monitors stand attached to the back.
SAMSUNG 49-Inch Odyssey G9 has the RGB light ring with 52 colors and five lighting effects available through the monitor's onscreen display (OSD) system.
The power connector is on the monitor's back, to the left, and looking downward. On the right side of the monitor's rear, under a snap-off shield, are two USB ports, an HDMI port, a USB hub input, and two Display Ports.
Samsung 49-Inch Odyssey G9 Gaming Monitor Image Quality
The SAMSUNG 49-Inch Odyssey G9 is a top-tier screen for pro gaming in terms of performance. It boasts a huge 5120 x 1440 resolution with 109ppi of density, which is excellent for gaming. The sharpest screens will only be 4K. This version uses almost as many pixels as a 4K screen, so you'll need a strong graphics card. This is the only major cause for concern.
You'll also need a strong GPU to take advantage of the 240Hz refresh rate, which is a much-welcome feature here. Thanks to the most recent synchronizing technology, it works and will undoubtedly function with the next AMD and Nvidia graphics cards and provides butter-smooth performance in the fastest games.
It does, however, have a small amount of ghosting and halo effects, but it is considered much better than most of its competitors. Most people don't even notice these effects. Similarly to that, there is a very slight amount of backlight bleed.
Samsung 49-Inch Odyssey G9 Gaming Monitor Interface
The joystick for the Odyssey G9 is roughly 12 inches from the lower-right corner, under the front edge of the monitor. The placement of these buttons closer to the center makes sense given the breadth of the display, but it takes some time to get used to it because they are often found on the back panel or in a corner, usually the lower-right one. The button, which also functions as a navigational joystick, gives quick access to the main menu and settings for power, input, PIP, and PBP.
Five circles at the top of the Star Trek-inspired panel indicate the status of the Black Equalizer, Response Time, Refresh Rate, Adaptive-Sync, and Low Input Lag settings. To change those settings or any other parameter, move the control stick on the monitor to the right to go one level "down," then push the stick to select your option.
Samsung 49-Inch Odyssey G9 Gaming Monitor Performance
Another area where Samsung overtakes its competitors is the use of Display HDR 1000. The underlying panel is a 10-bit VA display with a 1ms reaction time.
The Odyssey G9 features a contrast ratio of 1967:1 out of the box and brightness and black points of 354 and 0.18 nits, respectively. That is significantly superior to any IPS display now available, and it only makes games more powerful, vibrant, and engaging. You can get colors suitable for gaming by combining that contrast with a respectable Delta E of 2.74 and a color temperature of 6435K.
However, color consistency is good, and a backlight strength deviation of just 11% on an ultra-wide 49-inch screen is remarkable. The G9 retains impressive gaming results, with the brightness dropping to a more usual level. This is one monitor you will rely on for all your gaming and professional needs because it renders 99.9% of the sRGB color gamut and 97% of the DCI-P3 space, along with exceptional HDR performance that peaks at roughly 1000 nits of backlight power.
The Odyssey G9 helps your imagination come to life while you work on numerous windows and is overall quite productive, especially if you work in broad horizontal timelines. It can easily replace a multi-monitor setup. In addition to having far better viewing angles than traditional 1800R display designs, its 1000R curvature enhances immersion. It is better than most gaming displays in every way, and you rarely find a display as large as the Odyssey G9 that is so bright.
Samsung 49-Inch Odyssey G9 Gaming Monitor Pros & Cons
Pros

Cons

Overall, good performance

Exceptional color reproduction

Excellent screen space to perform multiple tasks

A huge widescreen panel

Super quality for SDR and HDR modes

Expensive

Lacks integrated speakers

Input lag may be lower

Viewing angles are narrow
Techywired Final Verdict
The Samsung Odyssey G9, which boasts first-rate functionality and outstanding performance across the board, deserves careful consideration from everyone who can utilize it to its fullest potential. Therefore, you probably won't be disappointed if you have a high-end graphics card to spare. It is also advantageous if you have a lot of extra desk space (or wall space), a library of games that you want to give a distinctive (and not always perfectly complementary) visual twist, and little desire to use the monitor for everything else.
All of this adds up to make the Samsung Odyssey G9 Gaming Monitor an expensive investment for a specific kind of gamer with specific gaming preferences and a particular setup for their gaming space. This is perhaps one of the nicest and most interesting monitors you can find if that describes you.
Conclusion
One of the most physically stunning and functionally unique displays I have reviewed is the Samsung Odyssey G9. It is the greatest ultra-wide gaming monitor thanks to excellent color quality and contrast. Additionally, it combines all these strong foundational elements with excellent uniformity, quick synchronizing, a massive resolution, and that distinctive yet immersive 1000R curve – along with superb HDR.
But only the most observant gamers may notice that the lighting is dull, and there are a few small motion problems. You'll also need a strong GPU to use and enjoy this screen, and many games could not benefit significantly from this unusual form factor.
Sum of all, this screen excels in many situations, and the Samsung Odyssey G9 is the greatest option available. Although you'll spend wealth, you won't care because the 240Hz speed and software trickery will surprise you.