It becomes difficult to consider which is the best gaming laptop when deciding between various brands. Although different gaming laptop brands in the market render their services, Dell and Acer are two of the most prominent of all. These are considered the leading laptop brands based on their manufacturing and qualities. Both provide a significant selection of models, each with advantages and disadvantages. You need a laptop that will perform well with all the tasks you wish to complete because it will be utilized for various purposes.
Acer and Dell are two of the biggest laptop manufacturers. Acer succeeds at providing a large variety of reasonably priced and cutting-edge laptops. Acer's key competitive advantage is its record of providing excellent features at reasonable prices.
Dell laptops are dependable and strong, with features that match the cost. Dell is a reputable company with a wide selection of models and some excellent deals. Acer is a competitor in price and innovation, but Dell is also cutting-edge and still holds the top spot for overall quality. Let's examine each brand to know which one is better to buy.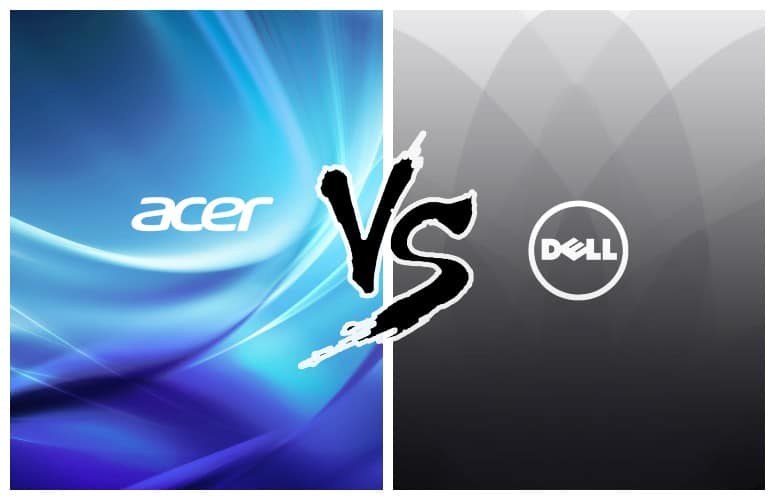 Overview of Dell laptops
A well-known brand and key player in the corporate sector is Dell. Dell laptops and PCs are commonly provided to employees at work. It is also considered the most expensive laptop brand in the market. Amazing performance, creativity, and higher build quality all come with this increased price. According to users, the greatest gaming laptops on the market are from Dell's Alienware line.
Overview of Acer Laptops
Acer is a well-known manufacturer of high-quality, cost-effective laptops that can be used for various tasks. Acer is one of the most adaptable brands because of its vast product selection. The Acer company has chosen to market to those with low to medium incomes. This may occasionally imply that Acer computers are inferior to high-end models from other brands. Acer laptops might be viewed as worth using budgeted money when price and features are considered.
Dell vs. Acer: Business, Gaming, and Regular Use
Dell and Acer have decent laptop options to fit various budgets, and both manufacturers deliver excellent performance for work, gaming, and daily usage.
Business Division Laptops
Acer Swift 3
The Acer Swift 3 is a practical low- to mid-range laptop with a Ryzen processor and a 13.5″ display, starting at about $600. It functions adequately for emailing, joining conference calls on the fly, and performing routine multitasking tasks.
Along with WiFi 6 and Thunderbolt connectivity, which are often found in more expensive laptops, there are plenty of connectors. Preinstalled on less costly devices is Windows 10 Home, which can be upgraded for about $99 more. Although the built-in bottom-mounted speakers are of average quality, this is a reasonable trade-off given the price.
| | | |
| --- | --- | --- |
| Gaming Console | Price | Available At Amazon |
| Acer Swift 3 | $648 | |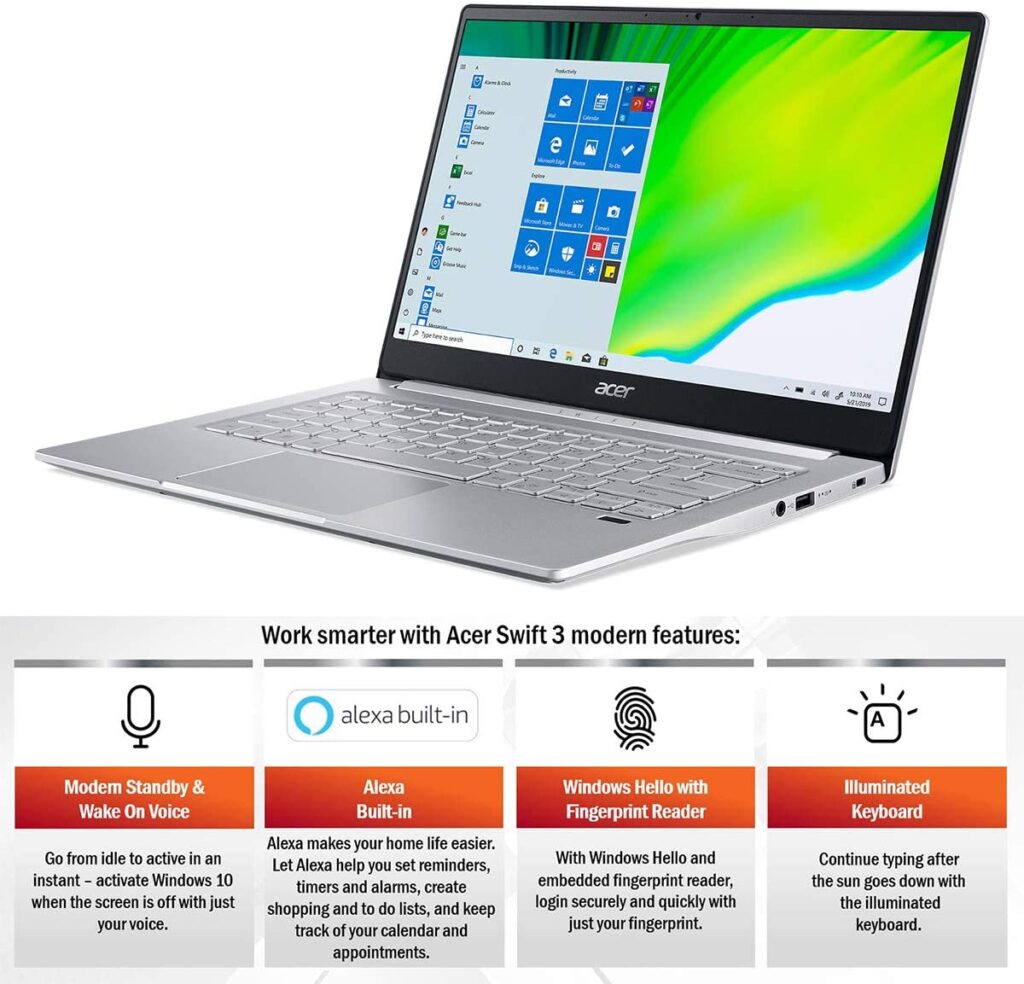 Acer TravelMate P6 
Acer sells the TravelMate P6 for business travel for $1,000 and above. The 14″ TravelMate P6 has a slim, light, and ultraportable design, a 1080p webcam, a GeForce MX330 graphics card, and Thunderbolt connectivity. It weighs just 1.1 kg and is 16.6 mm thick.
The TravelMate P6 contains Windows Hello 1 and fingerprint identification security features and is MIL-STD-810G approved for withstanding the environmental stress of travel. It boasts excellent features all over for such a thin, light design. The biggest disadvantage is that there have been complaints of too much bloatware, which includes annoying preinstalled software and pop-up ads that can be removed.
| | | |
| --- | --- | --- |
| Gaming Console | Price | Available At Amazon |
| Acer TravelMate P6 | $642 | |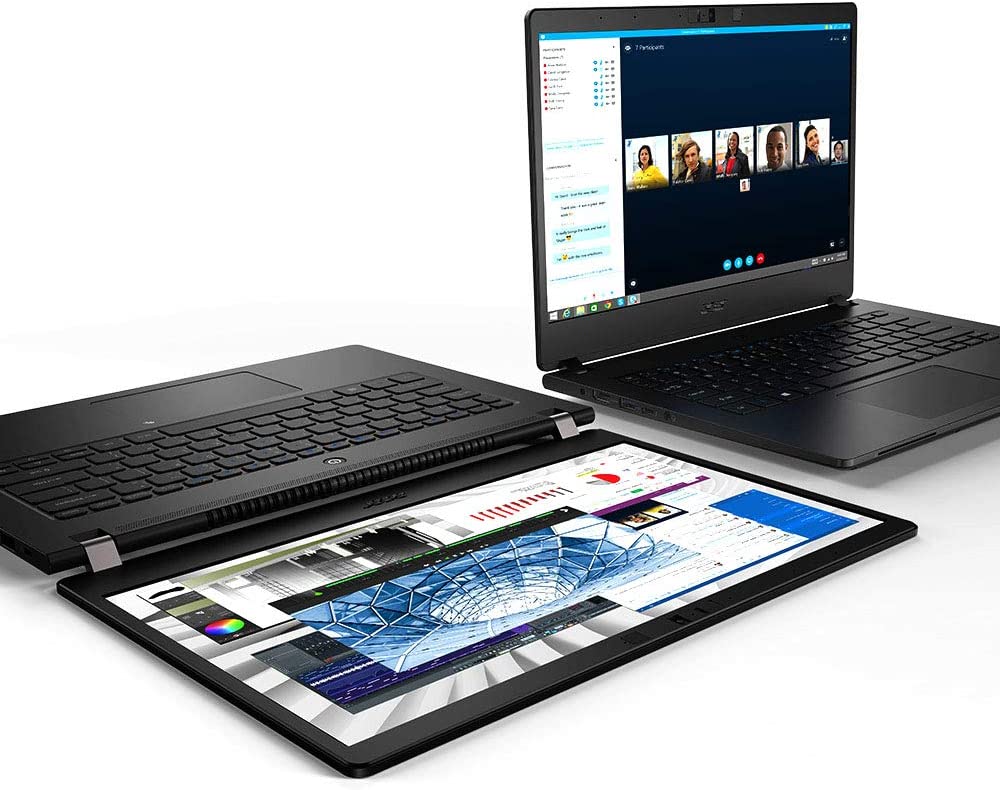 Dell laptops
The Latitude, XPS, Vostro, and Inspiron business laptop lines are just a few of the many available from Dell. The 15.6-inch Inspiron 15 3000 base model costs roughly $400 and has the absolute minimum specifications. HDMI is one of the open ports, although Thunderbolt and Ethernet are only available on higher-end machines from Dell. Depending on your needs, the Inspiron 15 3000 may be less expensive than the Acer Swift 3 because it comes with Windows 10 Pro. Additionally, it has a bigger screen.
Mid-range options include the Dell Latitude 3520, which has similar specifications to the TravelMate P6 but lacks Thunderbolt connectivity and starts at just under $1,000. Although it is significantly more expensive, it is less thin and lightweight and has a larger 15.6″ screen. It has Windows Pro and is EPEAT certified.
Gaming
Many affordable gaming laptops are available from Acer. The Nitro 5 is an entry-level option for playing less demanding games and is available with low to midrange specifications. The benefits of the Nitro 5 include a 15.6″ HD screen display and WiFi6 connectivity, with prices starting at slightly under $800. The Nitro 5 offers a typical 60Hz refresh rate but has less storage (256GB SSD) than more expensive models. However, this can be improved, and as a cheap starting point, it offers excellent value.
Acer's middle-of-the-road model is the Predator Helios 300. It has a 15.6″ screen, an Intel Core i7-10750H processor, and an NVIDIA GeForce RTX 2070 graphics card, costing about $2,300. It offers a 240Hz refresh rate. Strong performance and a clear, brilliant display are advantages. However, this laptop's battery life is short, and its bottom-mounted speakers are of poor quality.
Dell has its own brand G Series for a low-mid range budget and purchased the high-end gaming line Alienware back in 2006. Dell's cheapest series, the G15 Laptop for gaming necessities, has a price under roughly $1,600. The only significant difference in specifications between the Acer Nitro 5 and the cheapest 15.6″ G15 is the G15's Intel Core i7-10870H CPU, which is quicker than the Nitro 5's Intel Core i5-10300H.
The costliest gaming laptop offered by Dell is the Alienware X17. Given its size and strength, it is surprisingly thin and light at 17.3″ and 7.05lb in weight. It is about $400 less expensive when configured similarly to the Predator Triton 900. It comes in a single futuristic white colour option and has Element 31 Cooling Technology. Depending on the configuration, it can produce a refresh rate of 120-360 Hz.
Regular Use
The cheapest Windows laptop Acer offers is the Aspire 3, which costs little. The Acer Aspire 5 has more modest specifications and is priced at around $469. Both have processor choices from AMD and Intel. The Aspire 5 has a more expensive sandblasted metal cover, while the Aspire 3 is entirely made of plastic. Both have Bluetooth connectivity and a variety of connectors. They are excellent for emailing, web browsing, and movie watching, considering the price.
The Acer Spin 5 is a 13.5″ touch screen, mid-range convertible laptop with an Intel i7 processor that costs around $1,099.99. It also has a metal shell. You can spin it from a computer to a tablet, thanks to the 360° hinge. With full HD resolution and a 10-hour battery life guarantee, it also includes an Acer stylus pen for note-taking and drawing.
The least expensive Dell laptop for general use is the Inspiron 15 3000, which starts at $249.99 and comes with a choice of Intel N Series and Intel Core processors and long battery life. This is a decent entry-level laptop for routine tasks with similar specs to the Acer Swift 3. Also, it is well built with a matte finish and rounded front edges so that there are no sharp edges with typing.
The Dell XPS 13 has a starting price of about $1,299.99 and comes with an option of up to a 17″ screen, an Intel i5 processor, Windows 11, and 8GB Memory. The structure is likewise of high quality, featuring an aluminum body and a palm rest made of carbon fiber.
The Main Distinctions Between Acer and Dell
The key distinction between these two manufacturers is that Dell uses more durable parts in their computers. At the same time, Acer has some trustworthy devices but occasionally uses only cheap parts, causing these machines to break down on you. Also, take into account the warranty's duration. If you want to use this primarily at home, it could be worthwhile to consider your needs and whether either brand will satisfy you.
Components of Acer
Acer is a well-known Taiwanese business that has made significant advancements in laptop technology. They offer premium products that are affordable for their customers. Except for models in a lower price range than Dell, its most crucial components are comparable to those of Dell. With dual-core chips accessible in less expensive models and quad-core CPUs available in more expensive ones, the processors in their various models offer a unique combination. The buyers can choose between a full HD or an LED display screen because they come with LED screens.
Design
Acer and Dell's laptop designs resemble one another quite a bit. Additionally, they have a range of colors. The main drawback is how identical the majority of computers look. Therefore, you may argue that they are slightly larger than Dell laptops. Even though Acer's Swift 7 laptop holds the record for being the thinnest laptop, when it comes to design, Dell outshines competitors like HP and Lenovo.
It's perfect for both working and playing. Although its design is substantial, it is nonetheless lightweight compared to Dell laptops. Acer has established itself as one of the premium brands and has received various honors, including the iF Design Award.
Compatibility
Since the Windows 10 operating system runs smoothly on this Acer laptop, gamers can easily utilize it with other essential programs like Adobe Photoshop or Illustrator. Since you can use it for work and entertainment, it is also great for business. Acer laptops are also compatible with the majority of video games in terms of gaming.
Battery
Although Acer laptops are made for those who enjoy traveling, Dell laptops have better battery life. Since Acer laptops are equipped with graphics cards, which take a lot of energy, you should anticipate having to recharge them after using them for prolonged work or gaming.
Heat Management
This brand is exceptional at absorbing heat. Acer laptops are made to remain cool even after prolonged use. Whether you use it for business or play, its cooling system is finely adjusted, so you can be sure it won't overheat. They have smaller ventilation fans than other brands on the market, which consume less power and offer faster performance regarding laptop processing speed because they have a better thermal design.
Productivity
According to the computing industry, Acer has enough computers to meet customer needs and address market issues. Acer offers a range of products, including 2-in-1 laptops, Chromebooks, Gaming PCs, and Windows PCs. They provide high-quality laptops at affordable prices for people looking for a laptop on a budget with good features and characteristics.
Pricing
There are many high-end and affordable laptops available from Acer. Some of their models are expensive, which may put many potential buyers who want to check out the high-end item from this well-known company. If customers are on a limited budget or in a precarious financial condition, Acer provides various solutions. Several capable yet economical Acer choices are accessible even if you are on a tight budget.
Components of Dell
Compared to other brands, Dell equips their laptops with 3-cell batteries for longer operating times. In comparison to their rivals, they also gave their devices larger displays. The high-definition picture quality, which enables it to be used for gaming and graphic design work, is its strongest feature.
Most customers are well aware of how effective Overleaf is at providing top-notch dissertation writing services. Dell provides its excellent specifications at an affordable price for all. Dell LA always uses dual-core and quad-core processors as its primary CPU options. The storage space, connectivity ports, GPU, and RAM, are all larger than typical.
Design
Dell has never compromised in terms of presentation. They provide a large variety of the most beautiful smart designs in various themes and colors. Dell does a fantastic job if you're searching for a sleek and opulent appearance.
Even their most affordable laptops have a pleasant look and feel to them. When it comes to product distribution, Dell provides a variety of presentation styles, such as XPS and Alienware PCs. The XPS is a professional laptop, while the Alienware is a gaming PC with a beautiful design.
Compatibility
Due to its compatibility feature, Dell is the finest option if you're seeking a laptop for business use. Some of their products are equipped with 7th Gen Intel Core i3-7100U processors, which easily support MS Office (particularly MS Word, Excel, and PowerPoint) and all standard features like working and gaming.
Dell has excellent compatibility because it runs well on Windows 10 and Mac OSX. Although Windows 10 is advised for Dell machines, you can still use your Acer laptop with other essential programs like Adobe Photoshop or Illustrator.
Heat Management
Dell laptops typically become heated after extended use since they are built with conventional fans. However, it's important to note that this brand has improved and made cooling more efficient than previously by utilizing dual-fan in conjunction with heat pipes for the best cooling performance. Additionally, thanks to the aluminum alloy components used in its sturdy construction, the laptop has an internally more effective cooling system.
Battery
Depending on the model and battery capacity, Dell laptops offer long battery life. Furthermore, Dell batteries function consistently well, so no matter what kind of activities you engage in, you can be sure to complete high-quality work. It's also important to note that while their earlier models included a graphics card, they now use Intel HD Graphics to conserve energy. Your laptop's battery life will increase in this manner.
Productivity
Every person in the manufacturing industry can benefit from Dell in some special way. Dell products can fulfill your demands whether you're a student, businessperson, or gamer. The company constantly strives to adapt to market changes so that you can personalize your laptop. The XPS is their most dependable addition to the Dell family for demanding tasks.
Pricing
The competitive laptop market is driven by price, which is one of the key factors in a consumer's decision. Dell is aware of this and offers a pricing range that, when compared to its rivals, is attractive and competitive. You can choose a laptop that fits your budget by combining expensive and inexpensive computers. Even their most costly model comes with many features at a very affordable price.
Pros & Cons of An Acer Laptop
Pros
Cons
1. Every budget can be met by the several economical solutions available.
2. The most affordable laptops although the Predator gaming laptops from Acer are less expensive than some more expensive brands, they compete with the more well-known gaming laptop manufacturers.
3. Business computers from Acer have longer battery lives and are more portable.
1. Customers have mentioned durability issues that suddenly developed a few months after the product was purchased.
2. Poor technical support and customer service have drawn complaints from customers.
3. Component performance and quality may suffer as a result of low prices. There are models with performance problems at the lower end. 
Pros and Cons of a Dell Laptop
Pros
Cons
1. The Alienware gaming laptop from Dell is frequently referred to as the best on the market by users.
2. Involvement in climate change and sustainability user-friendly customer support systems.
3. The main components are creativity and slick design. a variety of laptops
1. Premium features cost more than those that come standard with many laptop brands.
2. Cheaper models emit more blue light and lack an eye-protective coating.
3. This will severely harm your eyesight. Sometimes the build quality of Dell's more affordable devices is inferior to that of less expensive brands.
4. The battery life of budget choices may be less than that of other brands.
Dell or Acer? Which one is more preferred?
For overall build quality, performance, and customer service support, Dell is superior. Dell is not known for being the cheapest on the market, but it can still provide long-lasting, high-quality value.
The touchscreen, 2-in-1 Dell Inspiron 14 convertible laptop is our top pick from the company. It may be customized with up to an Intel Core i7 processor, 16GB RAM, 512GB SSD, and Intel Iris Xe Graphics, starting at $799.99 with an Intel Core i5 processor. It is flexible, convenient to use, and composed of sustainable materials.
The Final Verdict
If you're considering purchasing a new laptop and are confused between Acer and Dell, select the one which you find more suitable for you. Although, it is difficult to select between a Dell and Acer laptops both have different qualities that distinguish them from each other.
You should choose a Dell laptop if you want one with the most basic specifications, components, and high build quality. In some cases, Dell's low-cost, high-quality laptops can be less expensive than Acer's. Dell has a bigger selection for businesses and typically emphasizes user support and functional requirements.
On the other hand, if you are certain of your qualities, you should get an Acer laptop because it can provide outstanding value and individuality. Although premium models like the Predator Triton for gaming do well and are a question of personal preference for the professional gamer, there are also excellent mid-range solutions for all uses.
Conclusion
Both Dell and Acer have advantages and disadvantages but they both are a significant consideration in the market according to their qualities and users' requirements. The Acer laptop is adequate for daily tasks if you're looking for one. Buy an Acer laptop if you're on a tight budget and require devices that can operate for a long time without being too loud. But if you want to spend a lot of money on a high-end laptop get the Dell.
Dell once more provides better overall features and build quality for mid-premium gaming. In addition, dell is suggested if you're seeking a laptop for gaming or more demanding tasks while Acer has some excellent options for budget-friendly laptops that won't break the bank.
Which laptop is better, Acer or Dell?
One of the strongest laptop brands available to consumers is Dell. Dell computers are more robust than Acer laptops, yet they still don't last as long as HP or Apple laptops. Although this can vary across different Dell laptop models, laptops bearing this brand typically last up to five years.
Are Acer laptops durable?
When handled and maintained properly, Acer laptops can often last up to 5 to 6 years. To prolong the life of your laptop, try the following: 1. Always keep your laptop organised and spotless after use. If you take care of your laptop they will work for a long time.
Is Dell a good gaming laptop?
The variety of product lines offered by Dell makes it simple to select the top PCs for every gaming situation. Among Dell's top gaming PCs are Alienware laptops and desktops. Alienware PCs are ideal for dedicated gamers because of their designs, which are optimised for maximum performance.
Is it possible to upgrade the graphic cards in my Dell laptop?
An update entails either replacing the old memory modules with a set of new ones that have a larger capacity or adding additional memory modules to the existing ones. NOTE: Because the system memory (RAM) is incorporated into the system board on some Dell laptops, it cannot be updated.