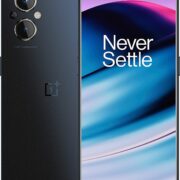 OnePlus Nord N20 5G
Pros
Decent Specs

Availability of headphone jack

Refined performance fast wired charging

Solid battery life

Refined and clean software
Cons
Lower refresh rate

Only limited to T-Mobile

Mono speaker

It still works for Android 11
It is not difficult to buy a budget phone, but it is somehow challenging to buy a phone with a low budget. OnePlus released its best phone, Oneplus 10 Pro, but recently it has released another beast in the market: Oneplus Nord N20 5G acquiring all the quality features. It is one of the best design cameras compared to its predecessors and has become a tough competition for its competitors.
Oneplus Nord N20 5G brings a better and brighter AMOLED screen comprising an in-display scanner. Its sleek design and high-capacity battery make it a valuable device that you easily buy if you cannot afford an expensive mobile. It is reasonably priced and best known for faster 33W charging and an in-screen figure print sensor. You can visit the TechyWired website to read about more android mobiles. Let's look at the specifications of Oneplus Nord N20 5G before going into a depth review.
Oneplus Nord N20 5G Specifications
| | |
| --- | --- |
| Brand | OnePlus |
| Model Name | Nord N20 |
| Wireless Carrier | Unlocked |
| Operating System | OxygenOS |
| Cellular Technology | 5G |
| Memory Storage Capacity | 128 GB |
| Connectivity Technology | Wi-Fi |
| Color | Blue Smoke |
| Screen Size | 6.43 Inches |
| Ram Memory Installed Size | 6 GB |
Oneplus Nord N20 5G Price & Available At
OnePlus launched its phone, the OnePlus Nord N10 which costs $299, but the arrival of the Oneplus Nord N20 5G brought some variations when it comes to price. This device is available at amazon at the cost of $229, which is lower than the Oneplus Nord N10 and Oneplus Nord N200.
When it first arrived in the U.S., it was available through T-Mobile and Metro by T-Mobile, but now you can also buy it from amazon directly. It is also available at Best Buy and OnePLus online stores. Moto G Stylus, which costs $299, is compared to Oneplus Nord N20 because both devices are somehow similar.
Buy Now At:
Oneplus Nord N20 5G Features
Oneplus Nord N20 5G is a beautiful, budget-friendly phone. It has various features that are as follows.
Oneplus Nord N20 5G Design
The design of the OnePlus Nord N20 is worth admiring. It has a professional look, especially the perfect deep blue color scheme. Your focus is immediately drawn to the two sizable camera lenses framed in light gold accents. The phone glitters in the sunlight, and credit goes to the slick plastic back's shimmering appearance.
It is appreciated that the OnePlus Nord N20 includes an in-display fingerprint sensor in addition to a 3.5mm headphone port. The volume and power buttons are also strong and convenient. However, because it is a cheap phone, compromises must be made. The defective vibration motor, which is noisy and has a poor feel, can strike you as one of the most noticeable hardware trade-offs. But at this price, you can't have everything.
The flat edges additionally enhance the quality appearance. The Nord N20 is 2.9 inches wide, making it comfortable to grip without the sides cutting into your hand. The weight of plastic phones is enjoyable since they feel wonderfully light. The Nord N20 weighs only 6.1 ounces.
Oneplus Nord N20 5G Display
The display of Oneplus Nord N20 5G is known as a shining star. It has a high refresh rate display and comprises bright and rich 1080p OLED. The 60Hz OLED display is fantastic, with its 6.43-inch panel and 1080 x 2400 (FHD+) resolution. The colors of the Oneplus Nord N20 are clear and bright in the sunlight and give you a standout experience of its use.
The screen of Oneplus Nord N20 is smaller than the screen of Nord N10 but carries a 406ppi pixel density and 20:9 aspect ratio. This device comprises the AMOLED panel and produces a better and more dynamic range. Overall, it is a better display than other budgeted phones, which is best in terms of price. Furthermore, if you guys want to know about the POCO gaming phone of 2022, Read More.
Oneplus Nord N20 5G CPU
Oneplus Nord N20 5G has a Snapdragon 695 CPU inside it, which is its specialty because many mobile phones do not have this processor. It works faster than expected and has become a long-lived chip among all the cheapest phones. It beats Pixel 5 and 5a in the CPU scores. Overall, it works effectively to perform all the important tasks and does not let its users be disappointed.
Oneplus Nord N20 5G GPU
The device uses Qualcomm Adreno 619 GPU, which makes the overall performance solid and effective. The addition of Adreno 619 might be a smaller update, but it keeps Nord N2p a competitive device. The phone always works efficiently in every term, especially in the performance mode. The benchmark score of this device is not as good as it should be, but it does not affect the overall usability of the phone if you see its price. The overwhelmed GPU has improved the gaming experience of all users.
Oneplus Nord N20 5G RAM
Whereas the Nord N20 runs a top-of-the-line processor, at the same time, it also supports 6GB of LPDDR4x RAM for ongoing users. This 6GB RAM works perfectly and supports 128GB of storage was also upgraded to UFS 2.2. The micro SD slot to insert the memory card is up to 512GB of storage, delivering a smooth experience to the users. It all comes under one device. Overall, I like my experience with this 5G device.
Oneplus Nord N20 5G Camera
Enthusiasts of black-and-white photography can use the 2MP monochrome lens to produce a subdued, monotonous image. The Oneplus Nord N20 5G lens performs as promised and can capture the in-depth details in photographs.
It was surprising to know that the Nord N20 lacks an ultra-wide lens. It is disappointing that there isn't one because, in addition to being present in its predecessor, the landscape-centric camera lens has become a smartphone commodity if it was just another way for OnePlus to save costs.
The Nord N20 can record video at up to 1080p with astoundingly good stabilization. On this camera system, most footage taken in broad daylight is acceptable. The video was taken at night and often has grainy quality and exaggerated images of lampposts and traffic lights. It's a drawback that frequently affects less expensive phone cameras.
Oneplus Nord N20 5G Battery & Charger
The Nord N20's battery is its strongest feature, in addition to its AMOLED screen. Along with a 4,500mAh battery that is appropriately proportioned, the OnePlus also includes a 33W SuperVOOC charger (power brick) in the box. The battery of the Oneplus Nord N20 can last for an average of five and a half hours of screen time (SOT) with heavy use. Otherwise, The Nord N20 often had 10–15% battery life left at the end of the day.
Even so, a rapid 33W charge takes only 45 minutes to recharge it to the 75–80% range fully. The Nord N20 has become a champion compared to other low-cost smartphones that can take up to two hours per cycle even if it doesn't have 125W charging like the most recent OnePlus.
Oneplus Nord N20 5G Pros & Cons
Pros
Cons
1. Decent Specs
2. Availability of headphone jack
3. Refined performance fast wired charging
4. Solid battery life
5. Refined and clean software
1. Lower refresh rate
2. Only limited to T-Mobile
3. Mono speaker
4. It still works for Android 11
Conclusion
The flash and glamour of premium smartphones may quickly spoil you. Still, the price and quality features of the Oneplus Nord N20 5G can truly shock you. Oneplus Nord N20 5G, one of the least expensive smartphones with a high-quality AMOLED display for the money, performs admirably and has the best battery and charging capabilities among similarly priced devices.
It is one of the gorgeous low-cost phones that appears to be much more expensive. Additionally, it boasts an AMOLED screen, giving you a better experience using this device. You may have survived a lot due to phones that contain poor battery life, but Oneplus Nord N20 5G does not let you be disappointed in terms of battery life.
It is also a respectable performance for the cost. However, you must also put up with terrible software update policies and inferior cameras. Overall, using the best components, OnePlus could produce a 5G phone that performs well in critical areas. Just be cautious to confirm if you are purchasing an unlocked or T-Mobile model.
FAQs
How effective is the OnePlus N20 5G?
The OnePlus N20 had issues with YouTube TV, but it can handle games like Call of Duty Mobile just fine. The N20 5G employs Qualcomm's less expensive Snapdragon 695 chipset with 6GB of RAM, as opposed to the original $300 OnePlus One, which had a top-of-the-line Qualcomm processor at the time.
Is the OnePlus Nord N20 5G Worth purchasing?
For a T-Mobile customer who wants to take advantage of 5G, prioritizes screen quality above image quality, and utilizes a phone for everyday work, the OnePlus Nord N20 5G is a good option. However, aside from current T-Mobile customers, not many people will be drawn in by the Nord N200's mediocre overall performance.
Why should I buy a Nord N20 G5?
You should buy this if
1. You shouldn't blow a lot of cash on a phone.
2. A phone with the greatest display, camera, and performance in its category is what you need.
3. You require a battery that lasts longer than one day and one that charges quickly.
What kind of phone is the OnePlus Nord N20?
It is a Smart Phone for Android. It performs effectively and gives the users a pleasant experience.
What are the specs of NORD N20?
The specs of Nord N20 are as follows
Android Smart Phone |6.43″ AMOLED Display|6+128GB |U.S. Unlocked |4500 mAh Battery | 33W Fast Charging | Blue Smoke | OnePlus Nord N20 5G
Why shouldn't I buy a Nord N20 G5?
You should not buy this if
1., You must utilize a USB Type-C device, such as a gaming controller or headphones.
2. You anticipated updates for Android versions beyond 12.
For how long will the Nord N20 be supported?
It will receive security updates for at least three years, which is better than some but even at this cheap price, we should expect more. A simple, low-cost phone with questionable downgrades and a subpar software support guarantee is the Nord N20.
Is the Nord N20 5G water-resistant?
None of the Nord N20 5G's components are waterproof.
It's also important to note that the Nord N20 lacks any obvious waterproofing. While some OnePlus 10 Pro models do not have a formal IP rating, they nonetheless contain watertight gaskets in the SIM tray. The Nord N20 doesn't have any of these gaskets.
Is wireless charging available for the OnePlus Nord n20 5G?
Yes, It is compatible with wireless charging protocols like Qi. Place the smartphone on a charging pad that is compatible with it to start charging it.