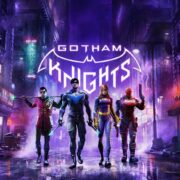 Gotham Knights
Pros
Many Batman fan services

Capable of customisation

Supportive multiplayer action

Mechanics like Arkham Series
Cons
Redundant missions

The playable characters'' lack distinction

Enemy tactics are annoyed

RPG systems are needless
Gotham Knights are based on an open-world action RPG set payable on the Xbox Series S. This game is developed and inspired by Batman: Gotham Knights Comic series based on a DG Comics character named "Batman" along with the supporting cast. This game primarily focuses on the characters Robin, Nightwing, Red Hood, and Batgirl, who attempt to reestablish justice in Gotham City.
It is all done during the era of decline in the instant outcome ofBatman's death. Batman is no more. A brand-new, vast criminal underworld has overtaken Gotham City's streets. It is now up to the Batman Family—Batgirl, Nightwing, Red Hood, and Robin—to defend Gotham, instill discipline among its law enforcement officers, and instill fear among its criminals.
The heroes become involved in a long-standing war between the Court of Owls and the League of Shadows, two shadowy groups competing for control of Gotham, as they look into the circumstances behind the death of their mentor. Overall, the game is all about solving mysteries and connecting the darkest chapters of the history of History city to defeat the criminals by performing impressive confrontations.
Gotham Knights Features
| | |
| --- | --- |
| Gotham Knights | Features |
| Developer | WB Games Montréal |
| Display | PC (no split screen) |
| FPS | 30 FPS |
| GPU | NVIDIA GeForce GTX 1660 Ti or AMD Radeon RX 590 |
| Compatibility | Microsoft WindowsPlayStation 5Xbox Series X/S |
| Characters | Nightwing, Robin, Red Hood, and Batgirl |
| Genre | Action role-playing |
| Mode | Single-player, multiplayer |
| Release date | October 21, 2022 |
Let's have a look at the features of Gotham Knights. 
Gotham Knights Price, Available At & Release Date
Gotham Knights is a fantastic multiplayer game with single and multiplayer gameplay capabilities. It is available on Amazon and worth $69.99. This amazing game was released on the 21st of October, 2022.
This game is playable on both Xbox Series X and Series S and gives you a pleasant experience. It is the standard edition of Gotham Knights that will never disappoint you. As WB Games Montréal Inc. published this game, you can also experience Gotham Knights on PC. Check out the best PS5 games listed for your enjoyment and gaming.
Gotham Knights Developer
The game is developed by WB Games Montréal a Canadian Game developer. It is specifically based in Montreal, Quebec. The game was published by Warner Bros. Interactive Entertainment. The platform is well-known for developing Batman: Arkham Origins and Gotham Knights, so Gotham Knights have received mostly positive reviews. WB Games Montréal has presented an interesting story, but the game is still in development.
Gotham Knights Characters
Although Batman is not in the frame of the family of Gotham knights, some valuable characters still play their roles efficiently. The top characters of the game (as mentioned below) take center stage to protect the city of Gotham. Let's explore all the characters in the game until now.
Character 1: Nightwing
Character 2: Robin
Character 3: Batgirl
Character 4: Red Hood
Gotham Knights Gameplay
Gotham Knights are set in the open world of Gotham City and based on an action role-play that features the four main characters mentioned above. Every surface of the story has its style and performance capabilities. For example, Robin can teleport through the Justice League" satellite. One of the game's advantages is that the players can level up the characters, but the disadvantage is that the enemies will automatically level up.
The players are allowed to use different vehicles so they can explore the city. One of the interesting things I found in this game is occupying the belfry that helps all the players to change their characters to prepare themselves for the next mission. The game can be played solo and also comprises the feature of a two-player multiplayer mode. It is good that the drop in and out of one player does not affect the performance of the second player.
Gotham Knights Story and Setting
The story of Gotham knights revolves around the four main characters named Nightwing, Robin, Red Hood, and Batgirl. Their mission is to bring back justice in Gotham City after the death of Batman by acting upon his legacy to save Gotham. They receive a pre-recorded message from their mentor, "Batman." There are several villains in the gameplay. The primary villains are the "secret society" and "court of owls" who want to take over Gotham city.
The story's supporting character is a former butler of Bruice whose duty is to provide moral and technical assistance to the knights in the game. Overall, the game is established in a good way, but the drawback is that the story tries to squeeze all the suspects into the murder mystery idea and becomes a bit disorganized.
Gotham Knights Display
The game seems to be played as a wonderful and enjoyable game, but, unfortunately, Gotham Knights does not have a split screen. It requires you to have two different PCs if you want to play this game with one of your friends or play in a multiplayer gaming mode. A separate gaming console for each person and a copy of the game is needed to play this game independently.
The minimum and recommended specs for the game display are as follows
| | |
| --- | --- |
| Minimum Specs | Recommended Specs |
| OS: Windows 10 64-bit | OS: Windows 10 64-bit |
| CPU: Intel Core i5-9600K OR AMD Ryzen 5 3600 | CPU: Intel Core i7-10700K OR AMD Ryzen 5 5600X |
| RAM: 8 GB | RAM: 16 GB |
| GPU: NVIDIA GeForce GTX 1660 Ti or AMD Radeon RX 590 | GPU: NVIDIA GeForce RTX 2070 or AMD Radeon RX 5700 XT |
| Notes: 60 FPS at 1080p, Lowest Settings | Notes: 60 FPS at 1080p, High settings |
Gotham Knights FPS
The game is playable on different gaming consoles, but the fps is a serious concern. The PC requirements hint that the game can be played at 60fps but still does not play at 60 fps even though the hardware contains more processing power. So it is proved that the game cannot play at the rate of 60 fps. Instead, it is locked to be played at the frame rate of 30fps. It is a technical limitation that must not be taken for granted and must be worked on to make some improvements.
Gotham Knights GPU
Gotham Knights is a solid game and require separate gaming consoles to be played by different players. Still, it needs NVIDIA GeForce GTX 1660 Ti or AMD Radeon RX 590 GPU at the minimum requirement so the game can be played efficiently. Otherwise, the maximum requirement of GPU recommended by the Gotham Knights is NVIDIA GeForce RTX 2070 or AMD Radeon RX 5700 XT. The GPU change can make a huge difference in playing Gotham Knights.
Gotham Knights Compatibility
Gotham Knights is a compact gameplay that is compatible with many devices. The devices that are compatible and non-compatible to play this game can be seen in the table below.
Compatible Devices
Non-compatible Devices
1. Microsoft Windows
2. PlayStation 5
3. Xbox Series X/S
1. PlayStation 5
2. Xbox One consoles
Gotham Knights Weapons
Every superhero in Gotham Knights contains weapons that have unique qualities. It is right to say that none of the weapons are bad, but a few are more dominant than others. The heroes use their weapons during the battle, each with its own characteristics. Following is the list of weapons used in the game by different characters.
| | | | |
| --- | --- | --- | --- |
| Character | Weapon 1 | Weapon 2 | Weapon 3 |
| Nightwing | Nest | Escrima Sticks | Darts |
| Robin | Staff | Microbots | Slingshot |
| Batgirl | Tonfa | Drone | Batarangs |
| Red Hood | Twin Pistol | Portable Turret | – |
Gotham Knights Public Opinion
Concerning public opinion about the storyline and the gameplay, the collected reviews are both negative and positive. Many people liked this game, but a few also disliked it. The reason is some of its disappointing features that can be improved in the future. Overall, the positive feedback outweighs the negative feedback. Although the game has some issues, you can still have a lot of fun while playing it, especially with your friends.
Gotham Knights Pros & Cons
Although this game is efficient to play, there are still some disadvantages that must not be overlooked. Let's look at the pros and cons of Gotham Knights to make a clear decision about playing this game.
Pros
Many Batman fan services
Capable of customization
Supportive multiplayer action
Mechanics like Arkham Series
Cons
Redundant missions
The playable characters" lack distinction
Enemy tactics are annoyed
RPG systems are needless
Conclusion
Gotham Knights is a valuable game developed and published by well-known sources. They have provided authentic gameplay to the users who play and enjoy this game through the interesting characters. All its quality features are worth considering as they provide solid gameplay. It is an action gameplay whose characters use different weapons to defeat their enemies.
The game has gained the attention of many people as it has been released recently and gives the facility of single and multiplayer gameplay. The storyline is interesting as it is based on the roleplay of the top four heroes who act upon the legacy of the dead Batman. It is playable on Microsoft Windows, PlayStation 5, and Xbox Series X/S, but you cannot play it on PlayStation4 and Xbox One consoles. It has both strengths and drawbacks, but it is one of the best-recommended games to play.
FAQs'
Which type of game is Gotham Knights?
It is an open-world, action role-playing game set in the most vibrant and engaging Gotham City. You can patrol Gotham's five distinctly different regions in a single play or with one other hero and stop in on criminal activities wherever you find them.
Is Gotham Knights worth purchasing?
Yes, it is a great game that is worthwhile and will never let you feel disappointed. It can give you quality time when you play this game. One thing that is a bit disappointing about this game is that the storyline has involved issues that the other gameplays have already solved years before.
Is Gotham Knights single gameplay?
Yes, this game can be played wherever and whenever you want because it gives the option of single gameplay, but still, you can choose to play it with one or more friends by taking advantage of its multiplayer gameplay.
Will Gotham Knights have any microtransactions?
No, the game that does not have the character of Batman has no microtransactions. WB Montreal has confirmed this news on Twitter.
How much time does it take to be played continuously?
If you intend to play Gotham Knights to solve its story, it can take almost 15 to 20 hours to complete the entire game. Still, the game's overall time depends on the game's difficulty level selection. It may take 25 to 30 hours if you desire to play this game for 100% completion.
Can I play the role of Batman in Gotham Knights?
No, it is unfortunate that you cannot play the role of Batman in Gotham Knights, as the game starts after the death of Batman, so you cannot play its role in the game. Still, there are others engaging characters that you can select from the game to play.
Does Gotham Knights play like Arkham Knight?
No, it does not play like Arkham Knight, as it is an all-new story set in Gotham city in the Batman universe.
Does Gotham Knights offer a split screen to gamers?
Split-screen co-op is not a feature in Gotham Knights. The game may only be played online with friends or random people. Since Heroic Assault is a standalone mode, this restriction might be changed when WB Games Montréal releases a patch, but the game has not offered any split-screen feature.
How does Coop work in Gotham Knights?
Cooperative play for two players is supported in Gotham Knights. Online co-op gaming has two options. You can join a friend's line or queue up with a random person, but you must use the Quick Match tool to get paired with a lucky player.
Can I select my character in Gotham Knights?
As Batman is dead in this game, he leaves the fate of Gotham city in the hands of Nightwing, Robin, Batgirl, and Red Hood. So there is no chance to select the character of Batman, but the game lets you swap the existing characters whenever you desire.