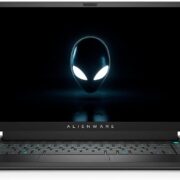 Alienware M15 R5 Ryzen Edition
Pros
Appealing Design

Fast CPU Performance

Replaceable RAM

Strong gaming experience

Excellent display 
Cons
Heavy and loud

Expensive

Average battery life

Build quality could be better

Tiny trackpad
Alienware has made a solid gaming laptop Alienware m15 R5 Ryzen Edition, that fulfills all your gaming needs. AMD has returned to Alienware's products after a long gap of 14 years. Before this, the Alienware brand was using Intel CPUs. The AMD processor has made Alienware m15 R5 Ryzen Edition a mid-range laptop for gaming.
The addition of the AMD processor is not only a significant update but has a redesigned chassis in terms of port condition. It has combined the Ryzen CPUs and the NVidia GPUs that start with the GeForce RTX 3060 and can also be updated to RTX 3070 if necessary.
The price of Alienware m15 R5 Ryzen Edition is also slightly lower than the previous edition and delivers a great performance. The only complaint is the battery life which is shorter than the other comparable beasts. It provides boundary-breaking visuals and makes your gaming experience more enjoyable thanLet's. Let's look at the specifications of Alienware m15 R5 Ryzen Edition before going into depth review. You are most welcome to read the Alienware M15 R6 review.
Alienware m15 R5 Ryzen Edition Specs
| | |
| --- | --- |
| Model | Alienware m15 R5 |
| Brand | Dell |
| Series | Alienware m15 R5 Ryzen Edition Laptop |
| Screen Size | 15.6 inches |
| Color | Dark Side of the Moon |
| Hard Disk Size | 1024 GB |
| CPU Model | AMD Ryzen 7 |
| RAM | 32 GB |
| Operating System | Window 10 Home |
| Graphics Coprocessor | NVIDIA GeForce RTX 3070 |
Check Price & Available At
Alienware m15 R5 Ryzen Edition Features
There are various features of Alienware m15 R5 that are as below.
Alienware M15 R5 design
Even with the M15 R5's new chassis, Alienware has maintained its well-known design aesthetic. The Ryzen Edition comes with recognizable lighting components at the back and is only offered in the dark grey hue "Dark Side of the Moon." A new, darker strip has been added to the front and sides of the design, which is intended to make it look more inviting. Overall, the notebook has a slightly more ornate appearance than its predecessor. The semi-matt surfaces feel good to the touch and are not significantly troubled by fingerprints.
The chassis's build quality falls short of what I had hoped for. The construction itself is excellent, and the base unit, in particular, is quite solid. However, you can hear loud creaking noises when you open and close the lid. Although picture distortions are caused by pressure on the back of the lid, which is likewise more flexible, this should not pose a serious problem in actual use. The lid can be opened with one hand and scarcely bounces, thanks to the proper hinges. The brand-new Alienware m15 R6, which features cutting-edge Intel Tiger Lake-H CPUs, also uses this new chassis.
Alienware M15 R5 Screen
Full HD (1080p) resolution, a 165Hz refresh rate, and Nvidia G-Sync are all features of the 15.6-inch diagonal display. Overall, this is a terrific fit for gaming.
The top and side bezels are quite thin, and the screen has a pleasant appearance with particularly nice colors. You won't see it when playing because the bottom border is thicker and fades into the somewhat large hinge. A full HD 360Hz or QHD 240Hz display is also an option.
Alienware m15 R5 RAM
Alienware m15 R5 includes 32GB of RAM with a 3200MHz clock speed. These modules can be upgraded if required. The SSD is a Samsung PM991a 512GB, a respectable and energy-efficient model. If you were curious, the drive is a PCIe gen three x4 device. On the motherboard, it takes up one of the two available bays.
Speaking of that, be prepared to acquire an additional part from Dell if you must have a second SSD. Without an adaptor, adding a second 80mm SSD is not possible with the current setup. In my opinion, you could tape it in place, but it isn't a long-term fix. An 80mm drive cannot even be used to replace the present SSD. The half-size SSD with my laptop is fitted to the motherboard with a homemade bracket. Therefore, get yourself two pieces if you intend to use two drives of your own.
Alienware m15 R5 GPU
Simple tasks can be handled by the effectively integrated Radeon RX Vega 8, and the laptop will immediately transition to the dedicated GeForce RTX 3060 GPU through Nvidia Optimus when they require more processing power. There are no issues with the RTX 3060, despite the claim that the m15 R5 came with a slower RTX 3070. With a TGP of 125 Watts and a top clock of 1875 MHz, it is one of the fastest RTX 3060 versions.
The GPU performs admirably and up to the standards. It serves 30–40% slower than the RTX 3070 (140W) in the Alienware m15 R4 (also available for the m15 R5). Additionally, consistent, the performance readily passes the 3DMark stress test (Time Spy). On battery power, however, the GPU's power usage is severely throttled from 125W to just 30W, which results in a 75% reduction in performance.
As I have already said, the RTX 3070 is available for AMD notebooks, but the higher-resolution QHD display is where it shines. On the other hand, the RTX 3080 can be installed in the Intel Model M15 R6, but only in conjunction with the lightning-fast 360 Hz display.
Alienware m15 R5 Ports
There are enough ports, although the laptop isn't overly equipped with them. However, there is one odd port option: the left-side Ethernet port. A USB-C USB 3.2 Gen2 port, a SuperSpeed USB 3.2 Gen 1 Type-A port, an HDMI 2.1 port, and the power DC in port are all located on the back of the laptop.
Given the number of other ports on the rear, it is unfortunate that the Ethernet port is not there. Why isn't the Ethernet port present if all of these ports are expected to be used? I managed to survive. However, a nicer setup would have been had that port been on the back. A few USB-A ports are also located on the right side to complete the ports.
Alienware m15 R5 CPU
This Alienware m15 model is unique since it is the first Alienware from Dell to include an AMD processor. It has an octa-core Ryzen R7 5800H processor, which can run at 4.4GHz for lengthy periods.
An Nvidia RTX 3070 Laptop is also included in this model, and it has 8GB of GDDR6 VRAM, which is more than enough for any game with QHD visuals. This variation has a 115W TGP and a dynamic boost of up to +10W. This is yet another feature that the r4 has over, as my testing shows that it can achieve up to 144W. But in this model, there is no vapor chamber cooling. Thus that is not an option.
Alienware m15 R5 Storage
Toshiba supplied the tiny M.2-2242 SSD in my test machine, which contains 512 GB of storage. Despite being connected through PCIe 3.0-x4, the NVMe-SSD performs poorly in the benchmarks. You won't notice the speed difference when playing video games, and PCIe 4.0 is also not supported. I have other SSD benchmarks in our technology area.
Alienware m15 R5 Battery
Any simple browser-based task may be handled with ease by this Ryzen gaming laptop. Given that AMD's CPUs have demonstrated their ability to increase the efficiency of rival gaming laptops, the M15 R5's long battery life shouldn't have shocked me, but it did. With Spotify, Slack, and Microsoft Edge running in the background, ten or so tabs open, and a few video conversations, this device's 86Wh battery lasted for around seven hours of mixed-use. For an Alienware laptop, that's excellent.
Even though Optimus on this model is glitchy, I'm very grateful they decided to activate it. Thanks to the Ryzen CPU, which runs at relatively low voltages when the demands are minimal, the battery life is really good. Getting 5+ hours while writing this review for a gaming laptop was very impressive.
Alienware m15 R5 Power Brick
The 240W power brick of Alienware m15 R5 Ryzen Edition is sufficient to power the CPU and GPU. Similar to how it was with the r4, it is quite thin yet wide and lengthy. Since they limit the TGP, it is not the best charger to carry in my purse. I would have chosen something smaller.
Alienware m15 R5 Connectivity
When compared to the previous model, the port selection is inferior. The microSD reader and the graphics amplifier port are gone, and there are no longer any USB ports on the left side. At least gamers continue to receive a fast Ethernet port (2.5 Gbps). The back USB-C connector only supports DisplayPort output and cannot be used to charge the device; Thunderbolt is not supported. Thunderbolt support is available on the m15 R6 with Intel CPUs, but the connectors are otherwise the same.
Alienware m15 R5 Ryzen Edition Pros and cons
Pros
Cons
Appealing Design
Fast CPU Performance
Replaceable RAM
Strong gaming experience
Excellent display
Heavy and loud
Expensive
Average battery life
Build quality could be better
Tiny trackpad
Conclusion
Although Alienware m15 R5's general layout and feature set are well known, I won't put down its Ryzen-based advancements. The m15 Ryzen Edition is an excellent value, given its performance and specifications. Its excellent gaming performance, processing efficiency at the top of its class, and screen with a high refresh rate are all housed in a stylish and distinctive chassis.
There is nothing much wrong with it other than that the system is a little heavy for a 15-inch gaming system today. The Predator Triton 300 SE continues to offer the finest value in the midrange segment, and I appreciate its small size. However, the AMD Alienware is a respectable alternative if you have a little more money.
Overall, The Alienware m15 Ryzen Edition R5 is best when it comes to laptop design and performance. Still, adding an AMD processor transforms it into a capable intermediate option for video creation and gaming.
FAQs
Is Alienware m15 R5 worth it?
The lowest-spec version of Alienware m15 R5 Ryzen Edition costs roughly $1,500 but the highest-spec version certainly surpasses the two-grand mark. A gaming laptop comes with a hefty price tag, but if it's one of the best ones available with the best CPUs and graphics cards for gaming, it might just be worth it.
Is there a webcam on the Alienware m15 Ryzen edition R5?
Compared to the Asus ROG G15, the Alienware R5 Ryzen 9 gaming laptop features a stronger GPU, more RAM, a webcam, and a larger hard drive; nevertheless, the display has a lower refresh rate, and the design is much more simple.
Can the Alienware m15 R5 Ryzen Edition be upgraded?
Your Dell Alienware m15 Ryzen Edition R5 laptop can be upgraded to have a maximum RAM capacity of 64GB.
When was the Alienware m15 R5 released?
The 15-inch Alienware M15 R5 Ryzen Edition is the most recent update to Alienware's range of premium gaming laptops, which was released on April 20.
What about Alienware's price?
The majority of people think Alienware laptops are wildly expensive. However, the fact that Alienware goods are manufactured of high-quality materials is the primary factor in their high prices. They have better hardware characteristics and survive longer than typical laptops.
What is the maximum storage capacity supported by the Alienware m15 r5?
Your Alienware m15 Ryzen Edition R5 supports the following storage configurations:
Storage type: One M.2 2230 solid-state drive
Interface type: PCIe Gen3 x4 NVMe, up to 32 Gbps
Capacity: Up to 512 GB
Can Alienware batteries be changed?
In as low as 200 recharge cycles, some Dell Alienware batteries can lose capacity. By using this service, your old battery will be changed out for a new one, restoring the power of your Dell Alienware battery.
The Alienware m15 r5's size is?
Display Size: 15.6″ FHD Display
With a 1920 x 1080 resolution, your games and HD movies display stunning color and clarity.
How can the battery be taken out of an Alienware m15 r5?
The battery is attached to the palm rest and keyboard assembly by four M2x4 screws. The battery is attached to the palm rest and keyboard assembly by four M2x3 screws. Remove the keyboard and palm rest components by lifting the battery.
How should my Alienware m15 laptop be cleaned?
Clean your Alienware m15 r5 laptop with a damp towel for optimal results. Dry the surface after cleaning it with the wet material to prevent moisture damage. You could achieve greater results after your cleaning session with alcohol and other cleaning agents.