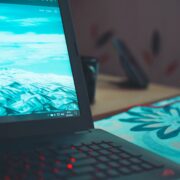 Acer ED323QUR
Before moving to the final verdict, let's look at the advantages and disadvantages of Acer ED323QUR 32
Pros
Affordable price

Good picture quality

FreeSync support

The refresh rate of 144Hz

Rapid response

High Value for the Money
Although display technology evolves, the monitor makers' fundamental objectives stay the same. Acer Gaming Series Ed323QUR 32 is considered one of the best gaming monitors for its perfection and other qualities. Below, I will discuss each category of monitor characteristics to highlight each one's advantages, but let's first understand what Acer Gaming Series Ed323qur 32 is.
Gaming monitors are made to maximise the visual quality of your graphics card and CPU output when you play games. They portray colour, motion, and image sharpness in various ways, but they are ultimately responsible for showing the results of your computer's image rendering and processing. It is important to understand everything about a gaming monitor and what it can do while selecting one for you. It helps you translate marketing and gaming monitor specs into real-world performance.
What is Acer Ed323qur 32?
The Acer ED323QUR 32 is a fantastic widescreen monitor for various uses. It offers all the capabilities for gaming because a dedicated gamer needs and wants a high-quality display. It is also appropriate for daily use, office work, and multimedia consumption. It has many helpful features and powerful specifications that make it unique. The Acer ED323QUR 32 is reasonably priced and provides customers with fantastic value.
The widescreen monitor of Acer ED323QUR 32 is great for mixed usage. If you are a gamer and want essential gaming features on your monitor, then you should buy this item. Its 32-inch quality and higher resolution will give a great experience while gaming. It is the best product instead of purchasing a multiple monitor setup.
Price of Acer ED323QUR 32
Acer ED323QUR is worth spending money due to its various features and quality performance. It is available on Amazon. You can check its price by clicking on the following price link below. 
Acer Ed323qura 32 Specs
Sorting through many components is necessary when examining specifications for gaming monitors and other computer parts. It makes it incredibly difficult to purchase anything computer-related. Even though gamers may be slightly more tech knowledgeable than other users, monitors and their technologies have become exceedingly complicated. It would be best if you first understood the fundamentals to choose a monitor that will help you see all you need while the game is on the line. Let's have a look at Acer Ed323qur 32 Specs.
Gaming Performance
The Acer Gaming Series Ed323qur 32 is an outstanding gaming monitor. It features a refresh rate of 144Hz. It guarantees a smooth gameplay experience. When you switch from a 60Hz monitor to 144Hz, it will be like day and night. For those wishing to move beyond the 1080p resolution, its 1440p resolution is ideal. It also enables 144Hz gaming while using fewer GPU resources than the 4K resolution.
Higher Response Rate
It reacts within four milliseconds. Its input lag, which is about 8ms, is barely noticeable. In-game motion blur and ghosting were scarcely perceptible. This is remarkable coming from a VA panel. Without any problems, you can enjoy responsive esports gameplay.
Additionally, AMD's FreeSync technology is supported. As long as your gaming FPS is between 48 and 144, you can game on it without worrying about stuttering, screen tearing, or lagging. Nvidia Graphics cards from the 10-series and later also function perfectly with it.
Image Quality
Acer Gaming Series Ed323qur 32 (2560 x 1440) has a widescreen display. It is established on the VA panel. It offers genuine 8-bit colour depth and covers 99 percent of the sRGB colour spectrum. Compared to the 1080p resolution, the 1440p resolution gives you more screen space and image quality. You can multitask between different applications without switching from one tab to another.
This monitor has reasonable colour accuracy. The colours stand out, and the graphics are fairly bright. You can use this monitor for anything outside graphic design or other tasks requiring precise colour management. The colour accuracy of this monitor can also be enhanced with a few minor adjustments.
Here are my Acer Gaming Series Ed323qur 32's ideal colour settings.
| | |
| --- | --- |
| Picture | Color |
| Brightness:70 | sRGB – ON |
| Contrast: 50 | R Gain – 50 |
| Black Boost: 5 | G Gain – 35 |
| ACM: Off | B Gain – 50 |
| Blue light: Off | R Bias – 40 |
| Super Sharp: Off | G Bias – 45 |
| – | B Bias – 50 |
One thing to keep in mind is that I use these Acer Ed323qur 32 settings. Since every monitor is unique, they might not be the best fit for you. You can use them as a starting point and make additional colour adjustments. However, these changes ought to significantly improve the overall visual quality for most users.
The VA panels are well-known for having a lot of contrast. The contrast ratio on this display is 3000:1. You'll get clear, in-depth photographs with a certain amount of depth. Whites appear brighter, and blacks appear deeper. The hues will appear vibrant. Playing video games or watching movies is more immersive because of the curved screen.
Brightness Level, Viewing Angles, & Pixels Density
Acer's Ed323qur 32offers a 250-nit brightness level. You won't have trouble using it even in a well-lit room because it is moderately bright.
The display has decent viewing angles. Both the horizontal and vertical viewing angles are 178 degrees. Viewing this monitor at various angles won't result in washed-out images, so you don't have to be concerned. As long as you don't see this monitor from extremely sharp angles, there won't be any significant changes in the colour, contrast, or brightness levels.
The pixel density on this monitor is set at 93 PPI. Both the text and the photos will be sharp. It is also simple to look at. There were no dead pixels on the monitor we examined. A small bit of burn-in was visible at the margins on this monitor. It is bearable and only audible in dimly lit portions of a game or movie. This is not a significant issue because you won't always have to glance at shadowy places.
A matte anti-glare coating reduces reflections from developing on Acer ED323qur 32. This monitor's image quality is excellent all around. It doesn't have any significant flaws. You'll undoubtedly be pleased with it.
Features
The blue light filter is included with the Acer ED323qur 32. On it, you may work or play for extended periods without experiencing eye fatigue. Additionally, the monitor doesn't flicker. Even if you are sensitive to flickering, you won't get any headaches even after using it for a long time.
You can utilise personalised crosshairs in games thanks to the aim point feature. You can manage the response time with the Overdrive feature. As the "Extreme" option introduces inverse ghosting in games, I advise selecting the "Normal" option. Without overexposing the bright sections, the BlackBoost feature makes foes more visible in the game's gloomy locations.
You can adjust a lot of options in the OSD menu. They range from basic options like contrast and brightness to more sophisticated ones like colour temperature. It is user-friendly and simple to navigate.
Ergonomics, Connectivity, and Design
The Acer ED323QUR 32 is a curved Monitor. It has a 1800R curvature. The large 32-inch panels work better with curved monitors. Except for the red highlights on its stand, its design is relatively straightforward. The slim bezels increase the viewing area and reduce distractions when using it for a multi-monitor configuration. On the back is a joystick you can use to operate the OSD controls. In addition to being superior to buttons, it is also more user-friendly.
This monitor has a good build quality. The plastic is strong and of high quality. This monitor's backside has a matte anti-glare coating that avoids fingerprints and makes it simple to clean. The stand is reliable and stable. Additionally, it contains a hollow for managing cables.
The stand's ergonomics can only be tilted -5° and 15°. The monitor cannot be rotated, swivelled, or pivoted at a 90-degree angle. This monitor has a 100x100mm VESA pattern, which you may use to mount on a wall or attach to a different stand. For this display, there are numerous connectivity choices. There is one each of DisplayPort, HDMI 1.4, and DVI. Additionally, a 3.5mm headphone jack is available. There are no speakers included.
Comparable Displays to the Acer ED323QUR 32
A 32-inch curved gaming monitor is the ASUS TUF Gaming VG32VQ1B. It costs around the same as the Acer ED323QUR 32. You get a 165Hz refresh rate, a 1ms reaction time, extremely little motion blur, compatibility for FreeSync, and many more useful features. It is a great deal for the price. Check it out without a doubt.
The AOC CQ32G1 monitor is an excellent value for the money. The Acer ED323QUR 32 exact core specifications are shared by this device, costing $80 less than the Acer ED323QUR 32. It is a great alternative if you have a limited budget. It has a great price and excellent gaming performance.
A nice alternative to the Acer ED323QUR 32 is the MSI Optix G32CQ4. Curved 1440p gaming monitor with 1ms reaction time, AMD FreeSync, and 165Hz refresh rate. Compared to the Acer ED323QURA 32, it is $30 cheaper. It provides good value for the money.
A gaming monitor with IPS and 1440p, and 144Hz is the LG 32GK650F-B. Both the image quality and game performance are first-rate. It is equally-priced to the Acer ED323QURA 32 Overall, and it is a great replacement for the Acer ED323QUR 32 and a high-quality gaming monitor.
A good 32-inch monitor with a similar price to the Acer ED323QUR 32 is the MSI Optix MAG321CQR. This is a great option to replace your 1080p gaming monitor. It boasts every feature a true gamer would need in a monitor, including a 144Hz frame rate, a 1ms reaction time, and support for FreeSync.
The Final Verdict
If you're moving up from a 1080p display, the Acer ED323QUR 32 is a fantastic option. It contains more functions than the typical user would want in a display. It provides superb all-around performance and justifies its pricing without costing you a fortune.
Who ought to purchase an Acer ED323QUR Abidpx?
1. Those who want to replace their 1080p gaming display.
2. Those who require a widescreen monitor for prolonged computer use or programming
3. Those who need a huge display for everyday tasks like using Microsoft Office, viewing movies, YouTube, or surfing the web.
4. Individuals looking for a frameless widescreen display for multi-monitor setups.
Conclusion
Acer Gaming Series Ed323qur 32 is fit for desirability if you are a gamer. Its offers a 144HZ refresh rate with FreeSync. It also provides 2560 x 1440 (QHD) resolution on a VA panel technology. Its great viewing angles and 32-inch curved screen makes it more attractive for you. Its audio quality is in the price range and is perfectly convenient for gamers. I consider Acer Gaming Series Ed323qura 32 the best monitor for comfortable daily use for gaming. I also recommend it for especially gaming and everyday use. Overall, it holds all the characteristics that a gamer wants in a gaming monitor.
Frequently Asked Questions
Can I use Acer Ed323QUR 32 for various uses?
Acer Ed323QUR 32 is an excellent widescreen monitor that can be used for various purposes. It is appropriate for playing games because it has all the capabilities of gaming that the best player needs for gaming. It is also suitable for office work and different multimedia consumption. So, it is reliable to use for other purposes.
How would I know that Acer Ed323QUR 32 is appropriate for gaming?
It is important to know about all the features of any device to see if it is appropriate for gaming or not. If you want to buy a gaming monitor, look for its characteristics such as response rate, a good display, and refresh rate. Acer Ed323QUR 32 offers a high-quality image rate, a 144z refresh rate, and a quick response time which means it is quite effective for gaming.
Can I view Acer Ed323QUR 32 from different angles?
Acer Ed323QUR 32 has both horizontal and vertical viewing angles. Viewing this monitor from decent angles does not impact the image quality. There will not be any noticeable changes in the brightness, colour, and contrast as you don't see the monitor from extremely sharp and weird angles.
Why should I buy Acer Ed323QUR 32?
You should buy Acer Ed323QUR 32 because it has various advantages that make it more reliable. It is worth spending money on and is available at an affordable price. Its free sync supports rapid response, and a refresh rate of 144Hz enhances the better gaming experience. Additionally, this is the best device as it has a widescreen monitor that provides a huge display for gamers.
If you like this content, Please share it with your family and friends.