On Wednesday, October 26, Facebook's parent company Meta revealed a dip in Revenue and Profits for the second consecutive quarter, largely due to a decrease in advertising revenues as it competes with the phenomenally successful video app TikTok.
In response to the company's quarterly earnings, its shares fell by 19% and traded at $105.20 in extended trading. This sell-off might reach 2016 lows if it continues throughout Thursday's trading day. Wednesday's closing price marked a yearly loss of 61% for the stock.
Weak earnings announcements from Google's parent company Alphabet Inc. and Microsoft this week set the tone for Meta's dismal performance. In the quarter ending September 30, the Menlo Park, California-based firm made $4.4 billion in profit or $1.64 per share. That is 52% less than the $9.19 billion, or $3.22 per share, earned during the same time in 2016.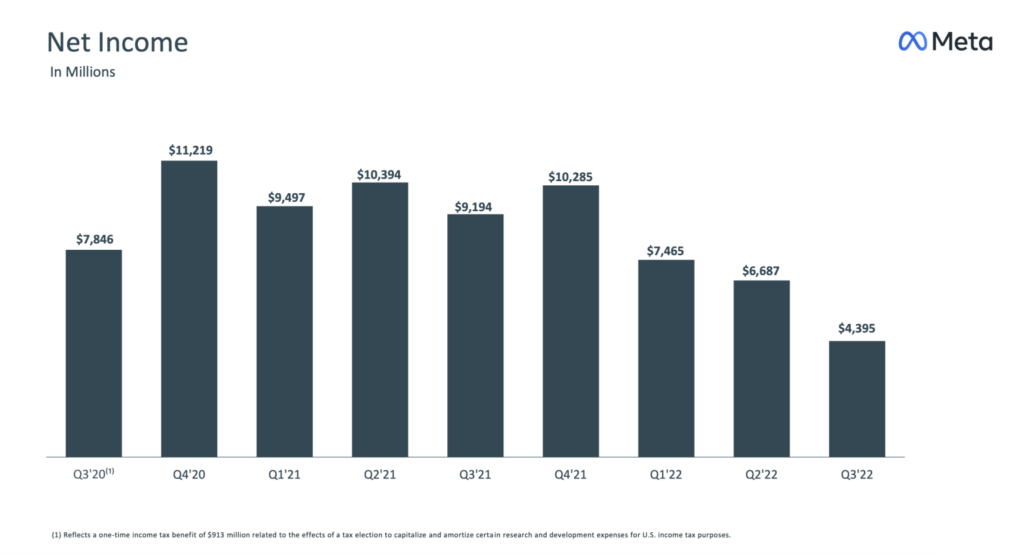 Due to the poor quarterly performance, new concerns have been raised regarding whether it is sensible to spend $10 billion a year on the Metaverse, a notion that does not yet exist and may never exist.
On Wednesday after-hours trading, the estimate negatively affected nearly $40 billion on the stock market. It has to deal with challenges besides the dismal forecast, including competition from TikTok, worries about large expenditures on the Metaverse, and the ever-present regulation risk.
Meta had its first quarterly sales loss this year. Once again, this quarter's financials for Meta haven't done a great job of gaining the confidence of the company's financial backers. At $27.7 billion, Meta saw a 4% year-over-year drop in sales, although as CFO David Wehner noted on today's earnings conference, part of the drop may be attributed to inflation. Income decreased from $9.194 billion to $4.395 billion year-over-year.
Meta Revenue Analysis
Meta's massive investment in the Metaverse is mostly to blame for this revenue drop. Virtual reality developer Reality Labs had a quarterly loss of $3.672 billion in the last fiscal period. The same thing occurred in the first quarter when CEO Mark Zuckerberg said that the 2030s would be "fantastic" to explain away a $3 billion loss.
The firm predicts sales between $30 billion and $32.5 billion for the last three months of the year. Sales of $32.2 billion would have surpassed analysts' projections. Its expenditures and expenses increased 19% year-over-year, totalling $22.1 billion in the third quarter despite a 4% drop in sales. Operating income dropped by 46% compared to the previous year to $5.66 billion.
Compared to the previous year, its operating margin (the amount of profit remaining after deducting the cost of running the firm) fell from 36% to 20%. Third-quarter net income was $4.4 billion, down 52% from the previous year. When trading after hours, It is now at about $108, its lowest level since March 2016. This was eight months before Trump was elected president.
The Reality Labs division, which includes the company's virtual reality headsets and its futuristic Metaverse, had its revenue drop by about half, to $285 million, compared to the same period in the prior year. From a deficit of $2.63 billion in the prior-year period, it expanded to $3.67 billion this quarter.
Because of the rising cost of living, advertising budgets are being cut across the board, and Meta is one of the largest ad-dependent technology companies to feel the pinch. Alphabet, the parent company of Google, reported lower-than-expected quarterly revenue on Tuesday. Shares of Snap Inc., the parent company of the popular photo-messaging program Snapchat, dropped by 25% after it reported its weakest revenue growth since going public five years ago.
Operating loss for the Reality Labs division at Meta was $3.67 billion in the 3rd quarter, up from a loss of $2.63 billion in the same period in 2016. This division is responsible for Metaverse and virtual reality operations. Total income was $285 million. Meta has said that it anticipates "substantial year-over-year growth" in Reality Labs' operational losses in 2023.
Meta's user base expanded despite a decrease in income. As of September 30, there were 2.96 billion active Facebook users, an increase of 2% year-over-year. And 3.71 billion individuals used at least one of its app family in the last month, an increase of 4% yearly across Facebook, Instagram, WhatsApp, and Messenger.