Youtube announced some great updates, including pinch to zoom, a new design ambient mode and many more,
The video-sharing website YouTube is receiving a facelift to maintain users' interest. There are now more ways to play back media, a more refined system for scrolling through footage, and the possibility to pinch and zoom in on images. The new version is being sent out to iOS and Android smartphones today, with certain capabilities added to the online player.
What's New On Youtube?
YouTube's interface is being updated, and new features have been added. For example, iOS and Android applications will provide pinch-to-zoom functionality for videos. The movie will remain at the current magnification level even after you withdraw your fingers. That sounds like a good choice for those who spend hours poring through Taylor Swift's new music videos in search of hidden messages. Previously only accessible to Premium subscribers, the pinch-to-zoom functionality has been tested extensively since August and is now rolling out to all users.
A new ambient option is available in the latest version of YouTube, and it employs dynamic color to adjust the backdrop of the app to match the hues of the currently playing video. It's not too flashy and uses the video's colors to improve the visuals. The dark theme also becomes darker and may be accessed on smartphones, computers, and Smart TVs. That's wonderful news for those who like the all-black AMOLED appearance on their mobile devices.
Like with Google Photos and other gallery apps, you can now pinch to zoom on videos on your mobile device. To begin zooming in on a video, just squeeze the screen. In the summer, the feature became available to Premium members. Nonetheless, I'm still waiting for it to arrive. Even after installing the most up-to-date version of the YouTube APK through the sideload method on an Android smartphone could not try out the functionality.
YouTube's new pinch-to-zoom feature, inspired by Instagram's similar feature, will provide users yet another option to engage with video material, which might be useful for more accurate instructions or for verifying whether or not the backdrop is indeed what they believe it is. To read text or zoom in on faces in the background without pausing the video, TikTok, currently YouTube's main competitor has a pinch-to-zoom capability.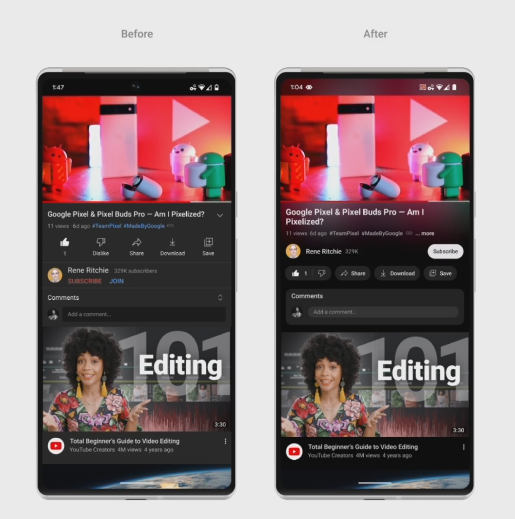 With the latest version, YouTube links in video descriptions have been converted to buttons to make the view pages more aesthetically pleasing and refocus the video player's attention. There will be a noticeable reduction in the size of the thumbs-up, share, and download icons as part of the redesign. The red "Subscribe" button is replaced with a black-and-white pill form.
This function is designed to speed up finding a certain scene in a video. While scrolling through a movie on a desktop or mobile, a row of thumbnails will appear as you move the pointer up or swipe up (a bit like you might see on Netflix). If you're viewing a video and need to review a step, you won't have to rewind on youtube.