Non-fungible tokens (NFTs) on Polygon will soon allow Instagram users to mint, display, and sell digital collections, offering content producers a new avenue to interact with and profit from their fan bases.
Today, Meta launched several new creative features for Instagram and Facebook. Specifically, the business said that users would soon be able to make their NFTs and sell them straight to followers, both on and off the platform. This update provides creators with resources for making, showcasing, and selling NFTs. Meta's initial partner for this functionality is the 3D modelling and animation platform Polygon.
1/ @Instagram & @Facebook have integrated support for Solana NFTs! 🙌

In the Instagram app, go to Settings, click Digital Collectibles & connect your Phantom wallet. The integration is rolling out to all users over the coming days, get ready to showcase your favorite NFTs! pic.twitter.com/H91C9khTmD

— Solana (@solana) November 2, 2022
According to Meta, its digital collectables toolkit would let users produce NFTs on the Polygon blockchain and then sell them on Instagram. The business has announced that users may now see NFTs from the Solana blockchain alongside those from Ethereum, Polygon, and Flow. Like Twitter's NFT profile image feature, OpenSea information is included in the presentation.
Additionally, Insta will integrate support for the Solana blockchain and the Phantom wallet, allowing users to display collectable digital videos. Previously, the platform connected to external wallets, including Rainbow, MetaMask, Trust Wallet, Coinbase Wallet, and Dapper Wallet, and supported the Ethereum, Polygon, and Flow blockchains.
Instagram's parent company, Meta, revealed today that it would soon begin testing these new capabilities with a select number of artists in the United States, with the eventual objective of rolling them out to a wider audience and more markets. The major social media platform intends to include an end-to-end toolbox that can be utilized for the entire process, from development (beginning on the Polygon blockchain) to exhibiting and selling NFTs.
Krugman, One of Instagram Testing NFT creators, said
"In the age of interconnected creative communities, the name of the game is incentive alignment. If the things that benefit my audience also benefit me, we are able to create a social symbiosis. He continued by explaining that NFTs create a financial tie between creator and collector that aligns their priorities. "When someone owns a digital asset that I created, the value of that asset is tied to my own creative success. Thus, our incentives are aligned at a deep level — we share a common goal, and that creates a healthier connection between the community and the creator"

Krugman said
Meta said on Wednesday that Insta creators would soon be able to create and sell their own NFTs (digital assets representing art or photography that cannot be reproduced) to followers on and off Instagram. Currently, Insta users may share NFTs on their profiles. This is the most significant effort yet made by a social media platform to penetrate NFTs.
Reddit, a competitor, introduced collectable avatars in July, and users have reacted well to them, with over 3 million members already possessing the digital valuables. According to statistics compiled by Dune, a blockchain analytics firm, that number is more than the 2 million purchasers on OpenSea, the biggest NFT marketplace.
The NFTs will be available for purchase within the Instagram app. According to Meta, it will work the same way on iOS and Android: via regular in-app purchases. Instagram is not levying any revenue share on the artists' earnings. A limited number of creators are currently testing this new functionality in the United States, but Meta plans to roll it out internationally soon.
Solana and the Phantom wallet join the blockchains and wallets previously supported by Instagram. Collection names and descriptions that OpenSea's metadata has supplemented will also be viewable on Instagram.
How to buy and Sell NFT on Instagram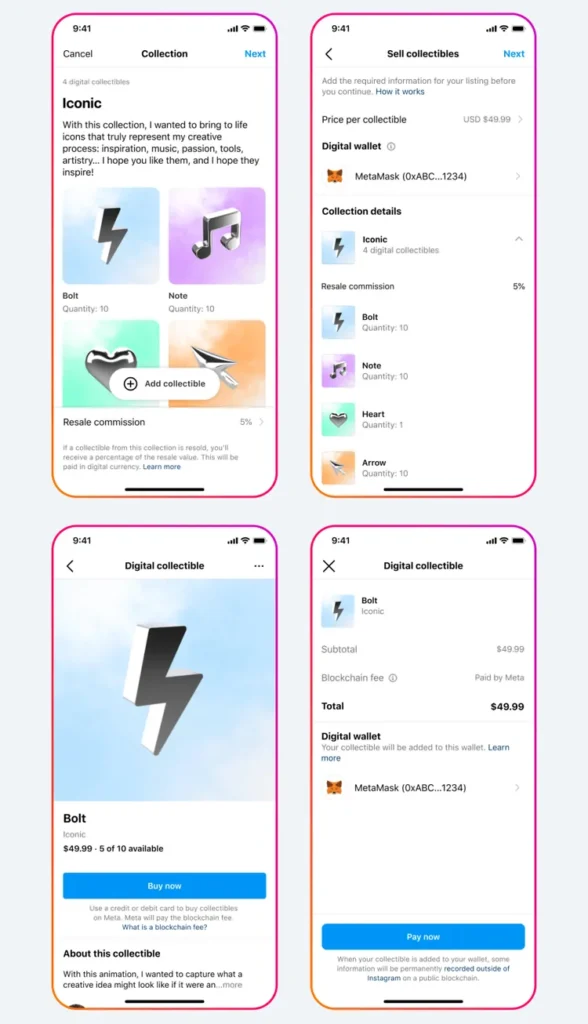 Mark Zuckerberg revealed his plans to transform Instagram into an NFT marketplace in March of 2022 but gave little details at the time. Last, in a May Instagram update, Meta began beta testing its NFT capabilities. In particular, it allowed some users to publish NFTs they had made or gathered to their profiles and the feeds of others, increasing the likelihood that others would find and enjoy them.
In May, Meta started experimenting with digital collectables features on Instagram by allowing a small number of producers in the United States to post photos of their original or purchased NFTs. By the end of September, it had expanded to 100 countries. It made it possible for all Americans using Facebook and Instagram to link their wallets, share digital collectables, and instantly tag the creator and collector without incurring additional costs from the social media platforms themselves.