With every second passing, the tech world is changing instantly. Elon Musk is the most hyped person in recent times; with their mercurial personality, anything can be expected at any time. Elon Musk has recently posted an ambiguous tweet and left the audience stunned and in pure shock.
Elon Musk Recent Tweet
Elon Musk being, the CEO of SpaceX & Tesla, is notorious for posting questionable tweets from the start. After the successful takeover of Twitter by Elon Musk, he has been posting quite a list of tweets that are the talk of the town.
Elon Musk has recently tweeted about "whether he should step down from the CEO position of Twitter." His tweet was scheduled on 19 December, 04:20 AM, and the audience was left with utter shock and surely responded to this tweet. Within 45 minutes of this questionable Twitter poll, around 3 million people used their right to vote in favor or against it.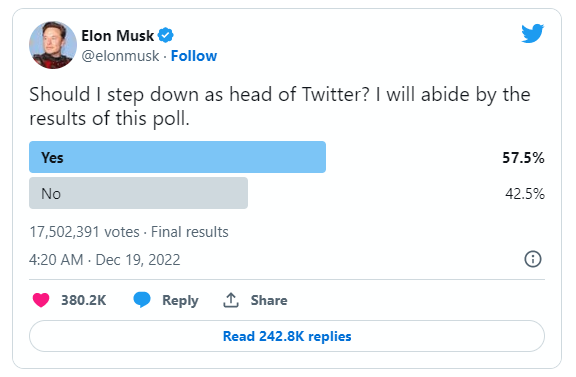 Further, he added that these results would surely matter, and he will abide by the result of this poll. This poll was created to last for a 12-hour duration, and the results were quite obvious as most of the audience voted in favor that he should step down from the head of Twitter. Around 57.5% of the people hit the "yes" while 42.5% strike the "no" option.
Right from the start of being the CEO of Twitter, Elon Musk, has implemented strict and shocking policies over the whole social media platform. The laying off of huge amounts of Indian people and charging influencers for their blue checks is just the tip of the iceberg.
Musk has always been a game-changer in the hearts of his fans and enthusiasts. Right from the start of the SpaceX launch and Tesla, his popularity has been on increasing slope. With future plans of colonizing the Planet Mars and bringing the Solar Roof within reach of every household.
Elon Musk's relatively new venture, Starlink, is the real source of interaction and technology within reach of everyone. Elon Musk believes that everyone should have access to an unlimited supply of fast-speed internet and stay connected with the world.
Elon Musk is a real head-turner with his role as the CEO of SpaceX and his ambitions for colonizing Mars with the human population. Elon Musk has a huge fanbase with his tweets and works on Artificial Intelligence technology. Musk has always been thriving for the future and has gained huge popularity with the purchase of Twitter's social media platform.
Musk's tweet has surely struck the audience with his recent tweet, and he wants to get the response of his huge audience on whether he should step down from the head position of head of Twitter. Further, he added that he would abide by the results that this poll has generated.
Now let's wait and watch how things turn out to be in the future by Musk.